This may turn out to be shocking for most of you, but this happened. 
The entertainment industry is most famous for celebrity scandals and controversies. In Pakistan, there have been many celebrities who are known for being part of juicy discussions. However, as we have come across quite a few of them, new ones seem to keep emerging.
Sumbul Khan Allegedly Having An Affair With A Married Guy
The rise in celebrity secrets being exposed is shocking. Moreover, what's mind-boggling is the fact that people are showing no mercy in revealing them. Just recently, another Pakistani actress, Sumbul Iqbal, has also been allegedly exposed by a young emerging model, Mantasha Kiani.
According to Kiani, she claims that Sumbul has been having an affair with her father, Nadeem Kiani. She also stated that Sumbul has not been allowing Mantasha's father to meet them and keeping the family away.
Here's what Manatasha Kiani wrote in her Facebook post: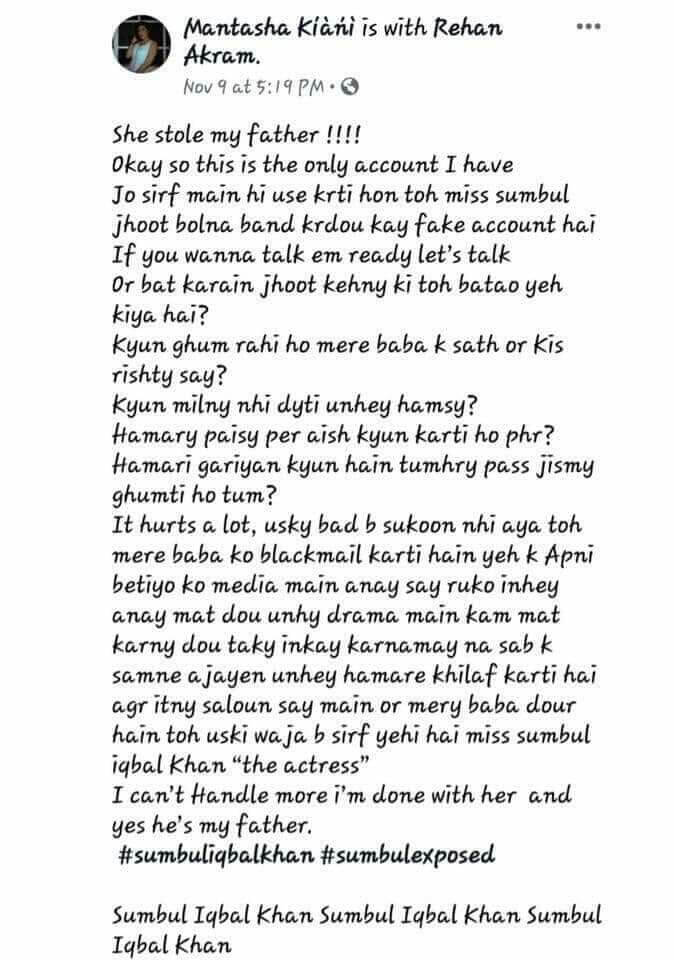 Yes, Mantasha did seem furious about the whole issue, and according to her, she couldn't take it anymore and had to speak up.
But wait. There's more…
An alleged audio conversation between Sumbul and Nadeem Kiani is also making rounds on the internet. In the audio, the two can be heard planning their future. According to Mantasha, Sumbul and Nadeem have been in a live-in relationship for the past 12 years. She also calls Sumbul a 'homewrecker.'
Here's the audio clip 
What do you think about this scenario? Could this be true? Let us know in the comments below.
Stay tuned to Brandsynario for the latest news and updates.