[Update]: The giant ship that was stuck in the Suez Canal causing a huge traffic jam in the canal has now been freed. But considering that the canal has almost 450 ships, one can only wonder how long it will take to clear the jam. And this can be even more damaging to the economy because the route of the Suez Canal accounts for almost 12 percent of the entire global trade.
The rescue of Evergreen (as the ship is called) came about after the diggers had removed sand of about 27,000 cubic meters from the canal banks.
The MV Ever Given was successfully re-floated at 04:30 lt 29/03/2021. She is being secured at the moment. More information about next steps will follow once they are known. #suezcanel #maritime pic.twitter.com/f3iuYYiRRi

— Inchcape Shipping (@Inchcape_SS) March 29, 2021
---
---
[March 26th, 2021]: Every day, we see various incidents taking place all around us. Whether it is the news of a pandemic or something related to a train, we always hear about it. Do any of you remember the explosion in Beirut? If you do, you might just even reel back a little just thinking about it. Similarly, a shocking incident took place on a Tuesday. On the Suez Canal channel, a ship got stuck sideways!
Due to that accident, now the entire ship is lodged on the canal. There is no way around it, over it, or under it. It is, quite plainly, just stuck in the channel. This canal is the source of trading for millions of ships every year.
On average, about fifty ships pass through that channel every day. Efforts to dislodge it are currently underway, and the authorities are hard at work. Despite the numerous efforts, it may take a while before the ship is completely free of the issue.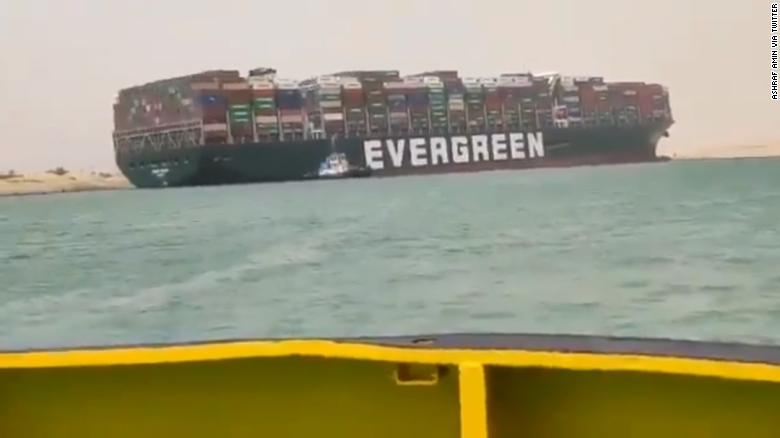 The Suez Canal:
As many of you may already know, the Suez Canal is a location in Egypt. It is a passageway that provides room for quite a lot of trade between countries. For many years, it has stood as a symbol of peace and progress. It is quite huge and has a lot of traffic coming through it every single day. Now, however, it seems that the traffic has stopped for a while. This is due to the presence of a ship lodged across the canal.
The ship in question goes by the name of EverGreen, and it has been stuck there for quite a while. According to sources, it costs about 400 Million dollars a day of loss each day that it is stuck. That is a substantial amount of cost that is being lost due to this incident. However, on slightly more positive news, the memes have started to pop up.
Ever Given Memes:
As soon as the pictures of the canal and the ship started to circulate, the memes began to pop up. By now, Twitter has exploded with people making hilarious comparisons to the pictures. Some of them are so relatable; people keep retweeting and sharing them again and again.
While the situation is definitely a dire one, these memes really have lifted people's moods online. You may find an image of a ship, lodged, being compared to how the last year has gone by.
I love the internet#SuezCanal pic.twitter.com/jMPWGftvT3

— Mohamed El Dahshan (@eldahshan) March 24, 2021
Close enough. #SuezBLOCKED #SuezCanal #Evergreen #Evergiven pic.twitter.com/qcwof2fbd4

— Guy With The Digger At Suez Canal (@SuezDiggerGuy) March 26, 2021
#breaking
Large container ship 'partially refloated' but remains stuck in Egypt's Suez Canal

#SuezBLOCKED
⛴️ gif from
Aurora Intel (@AuroraIntel)#ifb #Travel #ThursdayThoughts #sailing pic.twitter.com/4vBRqzjFmt

— You Must Do✍️© (@youmustdo1) March 25, 2021
An Enormous Incident:
While the memes are pretty funny, we must remember that the situation is quite far from it. We hope and pray that the problem is resolved soon, with zero casualties. It is one of the most significant events of 2021 and will be definitely remembered as such. The loss is far too substantial, and it must be lodged out as soon as possible!
It's been a wild three months. #suezcanel #SuezBLOCKED #2021 pic.twitter.com/rublgNp2Ta

— Tom Boldman (@TomBoldman) March 25, 2021
The world economy in one photo……. #SuezBLOCKED pic.twitter.com/htbq7lNd6d

— Erik van Wunnik (@LogiReal) March 25, 2021
Stay tuned for more from Brandsynario!