Thursday saw an interesting turn of events. Stylist Nabila, Model Eman Suleman, and makeup artist Fatima Nasir were part of quite an exciting feud. The word banter went viral, and people all over social media, including celebrities, came to share their 2 cents.
The feud/war started with Fatima sharing a photoshoot of Eman on her Insta account, and Nabila shared her remarks about it. She thought it could have been done in a better way, which according to her, meant doing something more for Eman's hair to compliment the Mohsin Naveed Ranjha lehenga choli.
Nabila's comment
Nabila, who has been in the industry for the past 35 years and whose work has made her internationally renowned, commented:
"Great idea, executed badly. Especially the 'ichra' looking hairpiece. When the subject is so beautiful, it's a sin to not up to our game."
Before Fatima could respond, Eman stood up in her support, saying she was satisfied and that it was better than any other parlor. This sounds like a direct attack on Nabila's Salon now.
Nabila:
"Agreed. But I'm sure you agree there is always room for improvement. In my opinion, the hair finish looks too synthetic and takes away from the regal styling. Obviously, we can choose to be reactive or grow from criticism. I prefer the latter."
Fatima's justification
Fatima now gives her own stance justifying her process:
"Her real hair is roughly 4-5 inches long, requires a lot of skill to even fake a hairdo like this, to be honest. Made this out of real hair extensions and paddings only, blended her short hair with the structure, didn't use a wig. I still managed to achieve the hair reference I was given with ease. It's a lot easier to just criticise someone's work, don't you think? I bet 9 out of 10 artists won't be able to achieve it."
The veteran stylist gave a suggestion that was not appreciated, so she summed it up with a one-liner.
"I see you choose to react and defend. All the best."
But the fight was not yet over. Fatima Nasir dragged the matter on by clarifying that she was in no way defending herself. She just wanted Nabila to put herself in other's shoes before criticizing. To that, Nabila had a witty response, "Dear, I have been in these shoes for 35 years, just FYI."
On being implored about not showing empathy, Nabila said, 'false empathy can be interpreted as false flattery in my dictionary.'
Respect should be first and foremost
But the conversation turned from comments on professional works to comments on the people involved. Eman called Nabila bitter while Fatima called her arrogant. The latter even said that Nabila does not follow her account or appreciate her past work but was ready to criticize them on this project.
Here is the thing, though. First of all, our culture is based on respect. Someone who has been in the industry for 35 years, she is your senior. And if she is taking out time to comment on your work, you should be thankful that a senior industry woman has considered your work at a level that she would even criticize.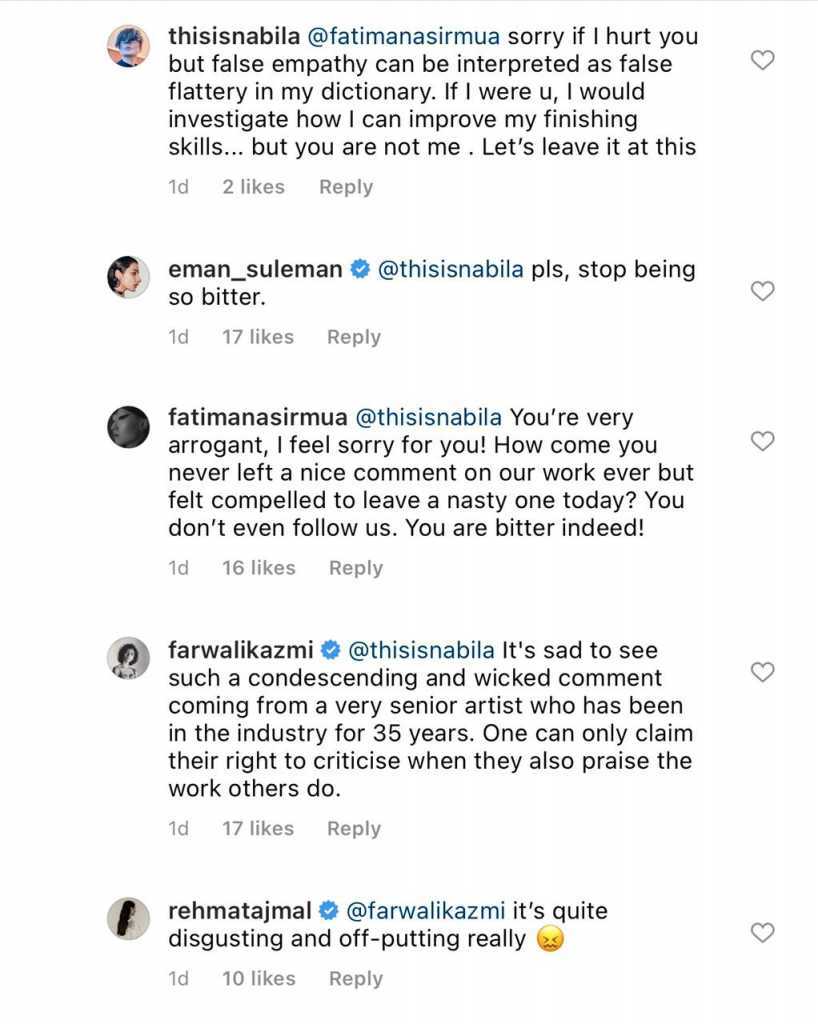 Other industry people came in support of Fatima; however, "It's sad to see such a condescending and wicked comment coming from a very senior artist who has been in the industry for 35 years."
"One can only claim their right to criticize when they also praise the work others do. It's quite disgusting and off-putting, really."
"If I were you, I would write my opinion and leave my suggestion in a polite way without attacking the artist, the work, and the locality, which would have been well received. But you aren't me; you are Nabila. Let's leave it at that."
Many Instagram users came to Nabila's defense, asking models to respect a celebrated makeup stylist. "Okay, wow. So did you guys get paid for doing this?" Rubab shared.
Stay tuned to Brandsynario for the latest news and updates!