Cambridge Assessment International Education (CAIE's) examinations that are scheduled to be held in May/June have been postponed, the news was broken over Twitter on Tuesday evening by Federal Education Minister Shafqat Mahmood.
He further mentioned that Cambridge would be announcing the new dates for the exams shortly. The decision was taken in a meeting to review the ongoing situation in Pakistan due to the threat from COVID-19. The meeting was held with provincial education ministers and senior education officials including Head of Cambridge Pakistan, Ms. Uzma Yusaf.
Since many people are asking it is clarified that this decision to postpone O and A level was taken in a meeting where Ms Uzma Yousaf, head of Cambridge in Pakistan was present https://t.co/MuzuowDxzE

— Shafqat Mahmood (@Shafqat_Mahmood) March 17, 2020
It has been clarified by the British Council and Cambridge that the examinations will be held as per schedule across the world and due to the situation in Pakistan, they will take place after the 1st of June.
Cambridge released a media statement on 17th March 2020 to shed some light on the situation at hand. The statement reads,
"We note that Pakistan's government's decision that examinations across the country will not take place until 1st June. This includes local and Cambridge examinations. Some Cambridge exams are scheduled to take place from 1 June, and as of now, we anticipate that they will run in Pakistan as planned. "
They further mentioned that the examination board is taking all the necessary actions to ensure the safety of schools and students and are working towards the smooth transition of students moving on to universities.
Read the Complete Press Release by Cambridge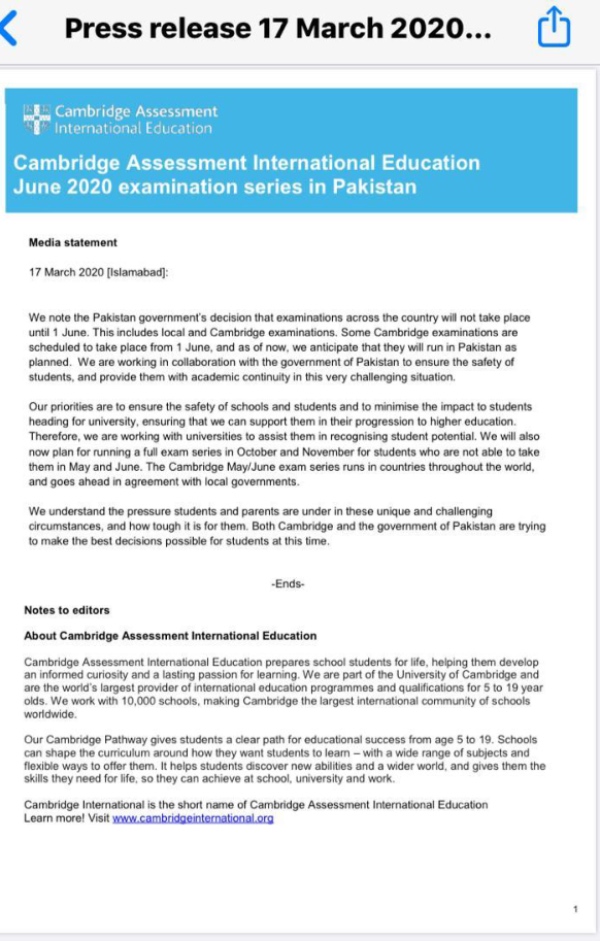 The news comes as a shock to the students who have been preparing to give their exams this year. Students are all under immense distress over the ongoing situation as there is great confusion on when they would be appearing for their papers.
It has been speculated that students could give the complete papers in Oct/Nov session of the Cambridge exams. However, they could also appear for some of the papers after 1st June.
A student of Lyceum College who is registered to appear for the May/June session was contacted and here's what she had to say on the ongoing dilemma:
The school has not given us a final decision as the situation is still under review. Students are confused as to what is going to happen next.
As per her own schedule, she would choose to give the complete papers together in Oct/Nov instead of just a few in June. CIEs are scheduled to start in April but schools reopen on June 1st. Even if students opt for the papers in June, they may only be able to do parts of a paper as some subject examinations may not even be possible if they are scheduled by Cambridge before June.
It is important to keep in mind that due to the postponement of examinations to Oct/Nov, universities would also have to delay the admission process. In order to accommodate all the students, the Higher Education commission shared in the meeting that they would delay the universities' admissions process to October.
However, the schools are in communication with CIE and still awaiting a final decision.
This is a developing story. 
Stay tuned to Brandsynario for the latest news and updates.