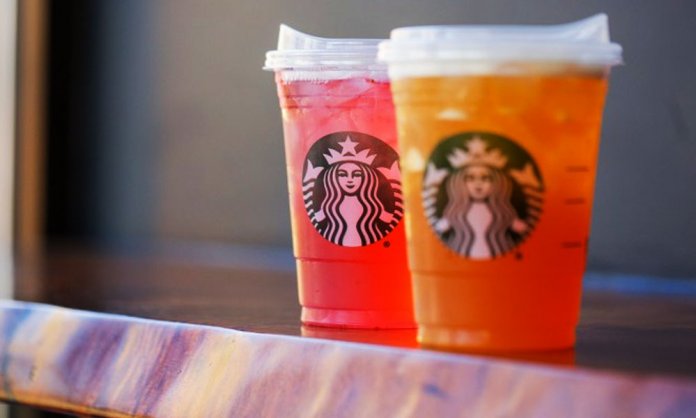 Starbucks has announced plans to phase out plastic straws by 2020 in stores around the world and replace them with an innovative lid design that cuts out the need for drinking straws altogether.
The move, announced Monday, is expected to eliminate the use of more than 1 billion straws a year, says Starbucks.
The coffee chain is the latest major player in the food industry to respond to the growing concern of single-use straws and their impact on the environment and marine life.
In place of straws, iced drinks at Starbucks will be topped with a lid that features a teardrop-shaped opening about the size of a thumbprint, which provides a cleaner less ridged version of a hot cup lid.
The design was created by R&D engineer Emily Alexander, who was asked in 2016 to create a new straw-less lid that would showcase the Draft Nitro coffee and cold foam served at a Reserve store in Seattle.
Little did she know at the time that the experimental project would become the standard lid design for iced drinks served at all 28,000 stores around the world.
The exception to the new lid will be the Frappuccino, which will be served with a paper or compostable straw.
"With eight million metric tons of plastic entering the ocean every year, we cannot afford to let industry sit on the sidelines," said Nicholas Mallos, director of Ocean Conservancy's Trash Free Seas program in a statement.
It's worth noting, however, that the lid itself is made of plastic, but can be recycled.
– Anti-straw movement –
Seattle and Vancouver, BC will be the first cities to sip on their iced drinks without straws, with other locations launching the new lids through 2020.
Earlier this month Seattle became the first major US city to ban plastic straws and plastic cutlery in its eateries.
McDonald's UK recently announced plans to start phasing out plastic straws and replacing them with paper straws, while Alaska Airlines also announced plans to ban plastic straws and stir sticks aboard their aircrafts.
The European Commission has proposed new rules that would ban the 10 biggest plastic pollutants found on Europe's beaches and in European waters, including plastic cotton buds, cutlery, plates, straws, stir sticks and balloon sticks.
Earlier this year, Taiwan announced an ambitious plan to ban single-use plastic items like straws, cups and shopping bags by 2030.
And the city of Vancouver will become the first Canadian city to ban plastic drinking straws, along with Styrofoam cups and take-out containers, when the new rule takes effect next summer.