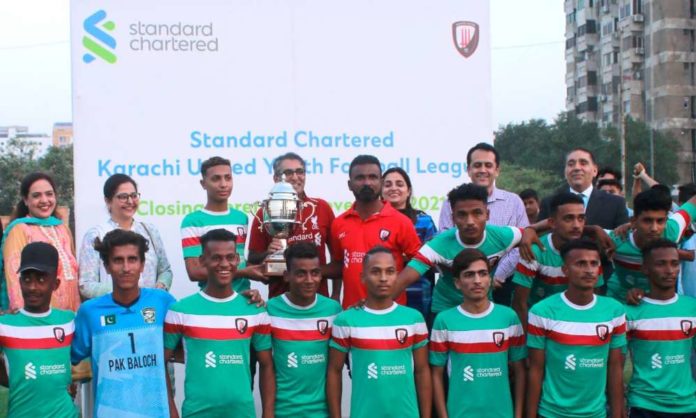 26 November 2021, Karachi – Standard Chartered – Karachi United Football League was recently organised at the Karachi United Stadium, by Standard Chartered Bank (Pakistan) Limited in collaboration with the Karachi United Youth Football Club. Featuring 199 thrilling matches, among 62 teams, it comprised more than 1300 young male & female players, who showed great performances, till the vibrant closing ceremony was held recently. Sponsorship of this tournament was a part of Standard Chartered Bank's resourceful social-development initiative to promote healthy-sporting activities in the country.
The final matches of this tournament were recently held in Karachi, attracting more than 400 spectators and enthusiasts. The winning team in the under-14 girls' competition was Karachi United Youth Center, while the victorious squad in the under-14 boys' competition was Karachi United Team. Earlier, the under-10 team contest was won by Team Mauripur, while the top team in the under-12 contest was Lyari Center. The tournament kicked off in March 2021 with enthusiastic participation by children hailing from 12 community centres, 5 NGO teams, 10 government and private schools teams and the matches were played in different locations including Old Golimar, Clifton, Malir, Baldia, Lyari and Mauripur.
Standard Chartered has been sponsoring this league since 2017. Since then, over 2,800 children have been supported through sports, many of whom would otherwise have been engulfed in self-injurious activities such as violence and drugs.
Commenting on the sponsorship, Mr. Rehan Shaikh, Chief Executive Officer, Standard Chartered Pakistan said, "It is a moment of pride for us to witness how far Standard Chartered-Karachi United Youth Football League has come along. Initiated with engaging 600 children from underserved communities, today we have exceeded the headcount to over 2800 children.
Furthermore, we introduced participation of girls in 2018 and provided more inclusive opportunities for differently-abled children in 2019. Mapped on our community investment agenda the League has been instrumental in building on the passion for football at the grassroot level in addition to providing important coaching on life skills and teamwork. Not just this, the SC-KU league has enabled us to create opportunities, build healthy competition and inculcate respect in the local communities, whilst breaking barriers across class, genders, and abilities, through sport. We are hopeful that through our continued efforts we can bring a positive social benefit that should be the unifying force across our communities."
Commenting on the league Mr. Imran Ali, Director Youth and Community at Karachi United said: "We must give huge credit to Standard Chartered and its leadership team to understand the benefit of such a platform for our youth and communities. The Youth League, during the very difficult last year with the pandemic, was one of very few rays of light and outlet for thousands of children. We thank Standard Chartered and look forward to their continued partnership, especially as we look to integrate their global sponsorship of Liverpool Football Club and to develop coaching capacity for millions of Pakistani children".