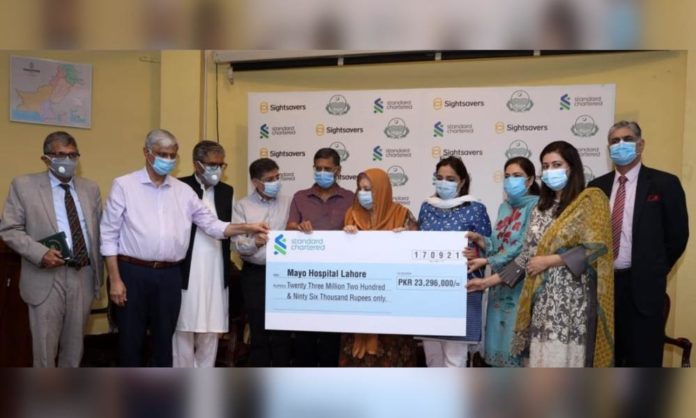 17 September 2021, Lahore: Standard Chartered Bank has donated PKR 23.29 million to Mayo Hospital Lahore through Sightsavers International.
Through this amount, Mayo hospital will purchase 24 cardiac monitors and 25 high-flow nasal canulas. As most of the patients being admitted during the fourth wave are at critical stages, there is a need for this equipment which will help Mayo hospital manage critical COVID-19 patients being admitted in ICUs and High Dependency Units (HDU).
Right from the onset of COVID-19, Standard Chartered Pakistan has played a critical role in raising awareness and supporting communities in need through this challenging period. Supporting communities – in good times and bad – is a core part of Standard Chartered and brings to life the Bank's brand promise of being Here for good.
In Pakistan, Standard Chartered has contributed USD1 million to Red Cross and UNICEF programmes that are providing emergency relief to communities impacted by the COVID-19 pandemic. In total, the Bank contributed USD300,000 to the Red Cross for the provision of urgent medical support and USD700,000 to UNICEF for the immediate protection and education of vulnerable children in Pakistan.
The Bank also provided PKR19.7Mn to support communities in need in Pakistan. The Bank enabled the set-up of modular HDU units and free testing as well as provided rations to underserved communities and PPEs to our doctors and nurses.
Commenting on the ceremony, Farah Asim, Head of Communications, Standard Chartered Bank said "Standard Chartered is proud to reach the most vulnerable people in our communities through the work being done by Mayo Hospital, whereby we are able to support the delivery of relief that aims to address some of the key challenges created by the COVID-19 pandemic. We have donated at a time when the third wave of Covid 19 is at its peak and I am sure this equipment will help patients at the time of need."
Dr. Asad Aslam, National Coordinator for the Prevention and control of Blindness Program under Federal Ministry of Health said, "Standard chartered has played an instrumental role for prevention and control of blindness in Pakistan through their "Seeing is Believing" program in last two decades. They have invested more than 5 million USD in different areas of eye health including training of eye health professionals at various levels, and supporting service delivery and infrastructure development of numerous eye health institutions nationwide. Last year they supported government of punjab, Baluchistan, AJK, and KPK for provision of PPE kits for frontline health staff by donating around 6 million pkr. Once again they are now supporting Punjab government for support of equipment for the critically ill covid patients in high dependency units of Mayo hospital Lahore. We have been receiving this support through our credible partner Sightsavers who are playing the role of a catalyst and connector for getting this generous support from Standard Chartered."