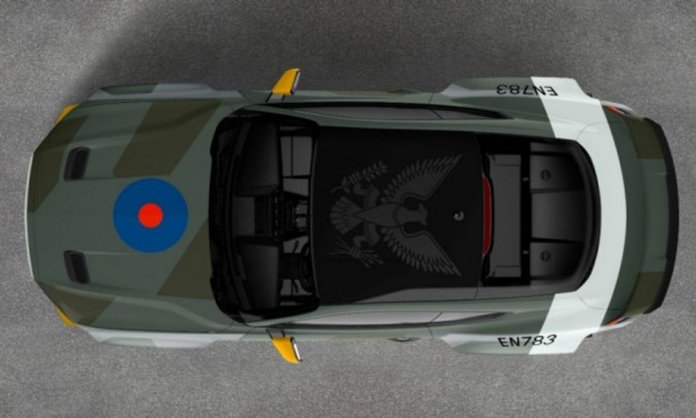 The annual Goodwood Festival of Speed is a very British event, but this year there will be an exciting car making an appearance that's definitely all-American.
The car in question is the one-off Ford Mustang Eagle Squadron GT, which has been created by Ford Performance and world drifting champion Vaughn Gittin Jr's RTR Vehicles tuning company.
There is a British element to the car though as it's been built as an homage to the American fighter pilots who served and flew for Britain's Royal Air Force during the Second World War.
To begin with, the Eagle Squadron GT started off life as a standard Ford Mustang GT. But then it was given a special carbon fiber wide-body kit finished in a very striking paint finish. The paint job includes the serial number EN 783, which is a designation given to a Spitfire flown by, among others, pilots from the US Air Force's 334th Fighter Squadron during WWII.
Powering the car is the Mustang GT's formidable 5.0-liter V-8 engine, but in this case, it's been boosted by a supercharger that takes the standard 444 bhp up to a phenomenal 700 bhp.
The world debut of the Eagle Squadron GT will be at this year's Goodwood Festival of Speed, where it will be shown to the public for the very first time on Thursday, July 12 as Gittin drives it up the Duke of Richmond's 1.16-mile long driveway. Those attending the weekend festival will also be able to get a good look at the car as a static display.
Goodwood is a particularly appropriate venue for the car to be shown to the world as a number of US Air Force squadrons were based at RAF Westhampnett, which was an airfield during the war that's located today inside the grounds of the Goodwood Motor Circuit where the event is held.
After its appearance at the Goodwood Festival of Speed, the Eagle Squadron GT will be moved to the Experimental Aircraft Association's AirVenture event in Oshkosh, Wisconsin, where it will then be auctioned off with the proceeds going to charity.