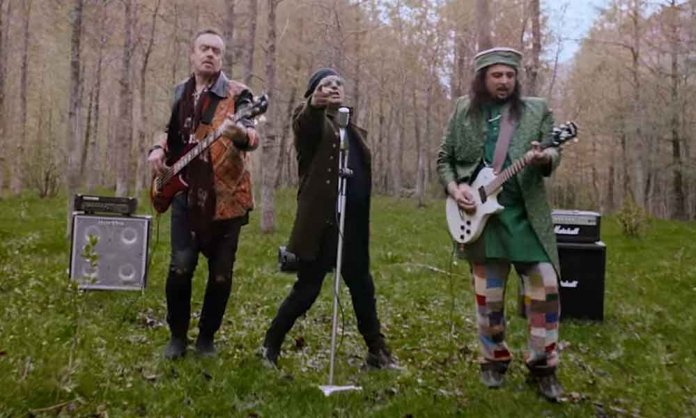 Pakistanis take pride in their nationality. We have an inspiring culture, traditions, natural beauty and people who are known for their hospitality. And of course, there is nothing that unites the nation more than the love for cricket!
Pakistani music has also been known to win hearts and has been appreciated globally. Our rock bands made waves internationally and brought respect and pride to the nation.
One band in particular that stole hearts is none other than Junoon.
The Sufi rock band, formed in 1990, had set a revolution in the music industry with extravagant hits. Not only did the band bring about a revolution, but they also ignited a fire in the hearts and souls of Pakistanis with some of the most loved patriotic tunes.
Sooper Junoon World Cup Anthem 'Badleinge Jahan' Is Yet Another Soul-Touching Masterpiece
The Sooper Junoon World Cup anthem by Junoon in support of Pakistan has fans delighted and nostalgic as the trio reunite after a gap of 15 years.
The video starts with a beautiful message of diversity where we see people from different walks of life gearing up to support their nation.
We then hear the one-of-a-kind voice belonging to the one and only Ali Azmat as he starts the track backed with electric-pumping guitar notes.
It goes on to reveal how the junoon for cricket runs in the veins of every Pakistani. At every corner, one can see unity, strength, passion, zeal, zest, and pride for Pakistan.
The message of diversity and equality continues as we see those belonging to the minority communities celebrate Pakistan and cricket with equal zest.
Watch the Song Below!
The Perfect Marketing Formula For A Sooper Dooper Hit!
Sooper has once again brought forward an outstanding campaign where they have created the perfect formula for a successful dish. Using Junoon as the secret formula with a dash of subtle marketing and opportune timing they have hit the hammer on the nail.
Before launching the song, Sooper released a documentary to bring back the memories from the 92 World Cup – reminding us of the times how our cricketers made the entire nation proud under the dynamic leadership of the Captain Imran Khan. It evidently complemented the communication by Sooper for this world cup anthem, setting the right tone just before the launch. If you missed out on the documentary, here is the link to still watch it:
https://youtu.be/83wr12qdyn0
Sooper has made a name for itself in music in the last few years. Since then, it has produced one hit after the other and has shown that the country has flawless talent be it in a game of cricket or music.
This year, the concept showcases authentic, unique, and diverse representation of people, representing their passion and love for Pakistan.
Kudos to Sooper for rejuvenating our inner Pakistani with this exciting anthem for World Cup 2019!
Pakistan Zindabad!