Sonya Hussyn has made an incredibly controversial and misinformed statement. The star took to Instagram to raise awareness and 'destigmatize' mental illness. However, the actress began this mission while being misinformed, which is beyond irresponsible.
Sonya Hussyn Doesn't Know What's What
In the picture the famed actress has shared, several forms of mental illnesses are written with her in the middle in a black and white photograph. Mainly, AUTISM is written boldly in the picture too. Essentially that means that autism is being categorized into a 'mental illness,' which is far from the truth.
View this post on Instagram

A follower of hers respectfully commented that autism is not a mental illness. It's a disorder or a disability if you will. There's a fundamental difference in both the categories, and merging them is irresponsible and disrespectful towards people with autism.
The shocking part came when Hussyn responded to that comment. She said: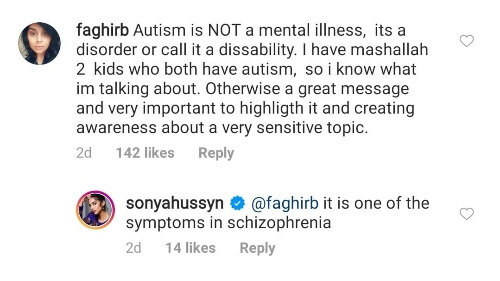 What Is Autism?
Autism is also referred to as Autism Spectrum Disorder (ASD). Most individuals with autism are also said to be 'on the spectrum.' This broad terminology is attributed because the disorder itself refers to a wide range of conditions. These mostly fall challenges with social skills, repetitive behaviors, speech, and nonverbal communication. 
Individuals on the spectrum are also further categorized into 'high functioning' and 'low functioning' depending on to what extent these characteristics are present in their behavior. This, however, is just a brief explanation of the disorder, which requires an extensive understanding.
Schizophrenia, on the other hand, is a mental illness in which people interpret their reality abnormally. It can result in hallucinations, delusions, and extremely disordered thinking (among other things). 
What's Being Said Over It?
2 minutes google search helps. @ celebrities. pic.twitter.com/hwBmbXAIu2

— خنشاء (@Khaaksaar__k) August 6, 2020
I can't at this… I need a wall to bang my head at after reading her response.

— Rabia (@itsjustmerabia) August 7, 2020
Mtlab woh bandi keh rahi hai k she is a MOTHER of TWO kids with Autism but Sonya Hussyn thinks her own knowledge is accurate. MashaAllah. 👍🏼 https://t.co/GdftfQzRkk

— soha (@SohaTazz) August 6, 2020
Lol pakistani actors trying to convince their followers that autism is a 'symptom' of schizophrenia pls stop embarrassing urself 🤮

— sun (@sunstrawberryy) August 7, 2020
Celebrities Need To Be More Responsible
It's high time our celebrities are held accountable for their actions. A problem that seems only to affect Pakistani celebrities is the confidence to say whatever they want, however they want to and wherever they deem fit. 
When the BlackLivesMatter movement was making headlines, Zara Noor Abbas very casually said fairness creams are not racist. Something is only racist if it encompasses violence, according to her.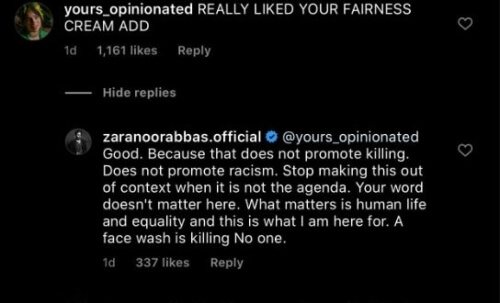 Then Mawra Hocane went on a talk show and said harassment is "Lahore ka maza," women don't mind being harassed. Not only is this incredibly problematic to say, what's more, uncertain is the fact that despite being educated, but she also entertains this mindset.
Now, Sonya Hussyn has made this statement. Sure, she may have had the best intentions, and she may be doing right in her heart. However, it is not acceptable to not have had done proper research before speaking up about these issues.
Stay tuned to Brandsynario for the latest news and updates.