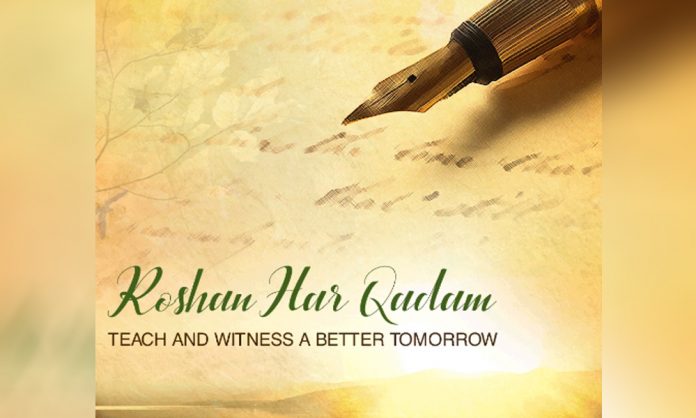 The current literacy rate in Pakistan is a mere 58 percent, according to the Economic Survey of Pakistan.
Without the means or the access to primary education, the citizens residing below the poverty line suffer the most. The majority of the population is unable to even spell their own name, putting them in a disadvantageous situation in many instances.
Education has the power to change lives! 
This Independence Day, in an ambitious bid, to improve the nation's future, Soneri Bank has launched an initiative to help the deserving.
Under the #Let'senlighten– teach how to sign campaign, the bank is helping such communities learn to spell and sign their name.
The objective of the groundbreaking idea is to create and raise awareness amongst people while sending out an important message about why knowing their identity is important.
For this purpose, Soneri Bank decided to ride the digital wave and generate a buzz around the concept of educating them and bring to light that they should be taught a minimum basic of writing down their own name as a signature.
Instantly, social media united to be a part of this enlightening drive!
Didn't find anyone who couldn't sign so asked my friend to teach her maid how to sign! She did :') #RoshanHarQadam pic.twitter.com/SOX0yIWhlE

— Mahrukh (@MahRukhTK) August 13, 2018
The idea has gained momentum and interest is pouring in from all parts of Pakistan.
I taught my office boy to write his name and now he spends most of bis time drawing different things and writing his name again and again 🙃 maybe an artist is on the way. . . I will try my best to teach him more stuff#RoshanHarQadam pic.twitter.com/o8x5meLmK8

— Main Abdul Majid Hoon (@ComicsByMajid) August 15, 2018
People are passionately educating their domestic help to pen their names.
The other guy at the shop took a piece of paper and demonstrated him how to sign.#RoshanHarQadam #LetsEnlighten pic.twitter.com/TMFKIPzFXs

— saad (@SaaadKhalil) August 11, 2018
Many are also inviting their friends to join in and become a part of the enlightening drive.
Teaching your domestic helpers how to sign or write their names will not only help them get things done easily but it will also help the economy of #Pakistan. Do Pakistan a favour this Independence Day and #LetsEnlighten more & more people. #RoshanHarQadam

— Aman (@LalaLoyalist) August 13, 2018
44% people think their domestic helpers can't sign or write their own names which is alarming. Have you done anything about it yet? #RoshanHarQadam pic.twitter.com/nqTYzHLDVy

— Aman (@LalaLoyalist) August 13, 2018
After 2 days, this is what Aunty has brought saying, "Aay vekho!! Mera home warrkkk"
Except for writing N backwards I think she has done a great job.#LetsEnlighten #RoshanHarQadam pic.twitter.com/JzWcEby8sO

— Ghabrana Nahin Hai (@hinasafi) August 13, 2018
A signature is an individual's legal imprint and is the most important part of one's identity. When it comes to financial transactions, buying of property, or any legal document it is a necessity.
Soneri Bank successfully created a tangible Independence Day campaign that not only gave back to the society but also developed the community spirit amongst Pakistanis.
Teaching the indigent something as basic as a sign, Soneri Bank has shown that it cares about Pakistan, its people, their identity, and education.
The strategy resonated with the core message of modern banking i.e. a signature is a basic banking need of an individual which serves as his/her identity for the bank.
What's more, the brand has imparted awareness on basic education to Pakistanis. Going beyond its banking products, it has prioritized the progress of the nation and building an attachment with the target market.
#Let'sEnlighten With Soneri Bank
Small efforts indeed make a big difference! Imagine the impact we can together create on lives of hundreds of individuals by teaching them to sign their names. Consequently, this initiative will become the first grand step towards education.
Let's join hands with Soneri Bank in this good cause, invest our time and efforts for the greater good of Pakistan. Teach someone how to sign their names and forward the empowering message ahead to change someone's lives.
What do you think about Soneri Bank's campaign? Let us know in the comments below.