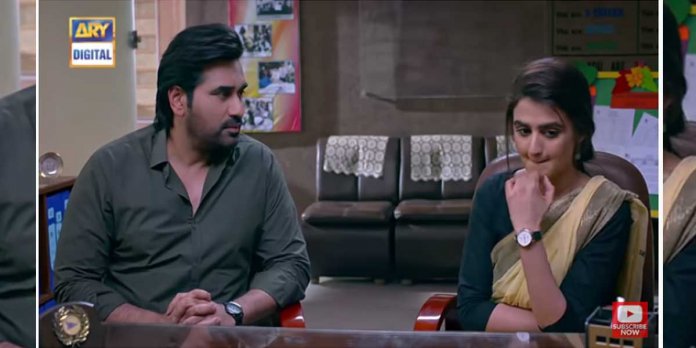 ARY Digital's 'Mere Paas Tum Ho' has taken the masses by storm and has all fans hooked to the TV screens.
The drama is winning hearts thanks to the witty dialogues and over the top acting by the lead actors.
In the previous episode, actress Hira Mani made her first appearance in the serial and Episode 13th revealed that Hira Mani is playing the role of Rumi's class teacher.
Her performance was lauded by plenty. However, some did not approve of her acting skills in the serial. It all began after the episode was aired last Saturday.

And here's how some people took social media to respond to Hira's entrance in 'Mere Paas Tum Ho'
Some people praised her work in the previous episode
I ve seen 13th episode of #MerayPaasTumHo wonderful story! Entry of #HiraMani!!!!!!

— Abubakar Jabbar (@IamABjabbar) November 9, 2019
This user found Hira Mani to be very 'hot' (interesting choice of words)
#HiraMani Looks Hot #MerePassTumHo pic.twitter.com/AYiKP2Fq55

— ꏂꂵꄲ꓄꒐ꄲꋊ꒒ꏂꇙꇙ 🦂بِچُھو (@NooOooo_MeRcy) November 9, 2019
This individual is eagerly waiting for her new project!
Are Sahib Koi #HiraMani ka beautiful sa drama lekar aao naa

— Mohd Zeeshan (@MohdZeeshan__) November 12, 2019
Some mocked Hira for having sob fest in every drama serial
Crying Specialist Of Drama Industry! #MerePassTumHo #hiramani #MerayPaasTumHo #HumayunSaeed pic.twitter.com/AcaG3ePtVN

— D U M T Y 🔥😍 (@sm_faranchawla) November 10, 2019
This person believed that her entrance was quite predictable
Boys are much crazy than girls to watch drama #MerePassTumHo . They were expecting #hiramani wife of #adnanactor but she is a daughter of Mateen Shb 👏👏👏

— NaveedKhaliq (@NaveedKhaliqq) November 10, 2019
But there were few who didn't appreciate anything about her character! Yup, it's hard to please some.
ARy bahi Wo 2 takky walii ee Thek te eis ko keo dall leya😭 #merypasstumho #HumayunSaeed #hiramani #ayezakhan pic.twitter.com/BMxo7qIsXm

— Danish Atta JapPa (@Danish32177459) November 11, 2019
Wow, people are brutal on social media
Honestly what a ridiculous overacting #Hiramani #MerePaasTumHo

— Sadaf Haider (@tomtomatoe) November 9, 2019
In previous interviews, Hira Mani shared that her character, Hania would be paired opposite Humayun Saeed, so it's safe to say that she'll probably be filling the void left in Danish's life after Mehwish (Ayeza Khan) took off with Shahwar (Adnan Siddiqui).
What did you guys think of the latest episode of the drama? Let us know if you Hira Mani was a hit or miss?
Stay tuned to Brandsynario to know all the latest updates.