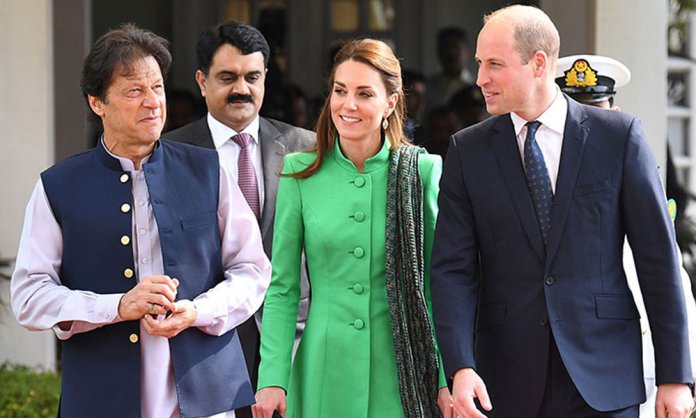 The nation is abuzz with excitement and chatter ever since the royal couple, the Duke and Duchess of Cambridge arrived in Pakistan for their official visit.
From their clothes, to their schedule to their meetings and the rickshaw they arrived in to visit the Pakistan monument , every single thing is being discussed.
On October 15th, the royal couple visited the official residence of Imran Khan.
The Duke and Duchess of Cambridge have arrived at the official residence of #Pakistan Prime Minister @ImranKhanPTI – William knows the PM well as he is friends with his former wife, Jemima Goldsmith, and used to play cricket with him as a young boy #RoyaltourPakistan pic.twitter.com/38facE3EkK

— Rebecca English (@RE_DailyMail) October 15, 2019
Photos and videos of them meeting and interacting with the Prime Minister were all over social media:
The Duke and Duchess of Cambridge, Prince William and Kate Middleton called on Prime Minister Imran Khan in Islamabad today.
On arrival at the Prime Minister House, Prime Minister Imran Khan welcomed the Royal couple.#RoyalVisitPakistan #RoyalTourPakistan pic.twitter.com/QUqDrl4A0j

— Govt of Pakistan (@pid_gov) October 15, 2019
However, Pakistanis cannot help but notice that Bushra Bibi is nowhere to be seen in the photos.
Considering how significant her place is, social media seems a little disappointed in not being able to see her participation in international tours and other such affairs.
Why is the first lady never there on International tours? Don't think I have seen a picture of her with the Royal Couple also.

— Shehzad Ghias Shaikh (@Shehzad89) October 16, 2019
PM Imran hosts Prince William, Kate Middleton at Prime Minister House – So Kate didn't get to meet Peerni? How come Imran Khan wasn't accompanied by his wife while Arif Alvi and Shah Mehmood were? https://t.co/tKqws0TrKx

— Ayesha Ijaz Khan (@ayeshaijazkhan) October 16, 2019
Some think she is being kept away due to the fear of being criticized for her veil, while others think it is by her own choice that she remains to be unseen in these events.
Interesting that Bushra Bibi hasn't made an appearance at all. #RoyalVisitPakistan

— Sabahat Zakariya (@sabizak) October 16, 2019
Amidst all this criticism, many Pakistanis have spoken in favor of her.
I dont understand why people are complaining about Bushra Bibi's absence from the public spotlight in the wake of the Royals' visit.

If this is her choice, then this is her choice. If someone doesnt want to be in spotlight, it is their right.

— NaPoha (@NaPoha_) October 16, 2019
They are of the opinion that she should be entitled to her own choice, even if there is a religious reason behind it.
If Bushra bibi chooses to maintain her status as a Purdah Nashin, the State of Pak allows her the Individual Liberty and Freedom to maintain that Status.

Plus there is no office of the First Lady. So let her have that individual freedom to privacy.

This hue and cry must stop!

— Fidato (@tequieremos) October 17, 2019
Moreover, some have also pointed out that if the public expects her to show up and participate because she is the First Lady, they are wrong.
Duke and Duchess of Cambridge called on the President Dr. Arif Alvi at the Aiwan-e-Sadr Islamabad pic.twitter.com/x5pok6EOYc

— Information Ministry (@MoIB_Official) October 15, 2019
She is not the First Lady, Dr. Arif Alvi's wife is, as he is the President of Pakistan and he WAS present alongside his wife to meet and greet the royal couple.
Let me educate you a little ,Bushra Bibi is NOT the First Lady. Samina Alvi is the First Lady of Pakistan .

— Concerned Pakistani (@patriot3558) October 16, 2019
No. Being wife of head of government means nothing. The first lady is not Bushra bibi in anycase, it is Samina Alvi as head of state is not IK but Arif Alvi.

Rest, PTI haters have stooped such a sad level of pettiness that they will find Keera in everything 😥

— shaikh_cat (@CatShaikhs) October 16, 2019
What are your thoughts? Let us know in the comments!
Stay tuned to Brandsynario for more news and updates.