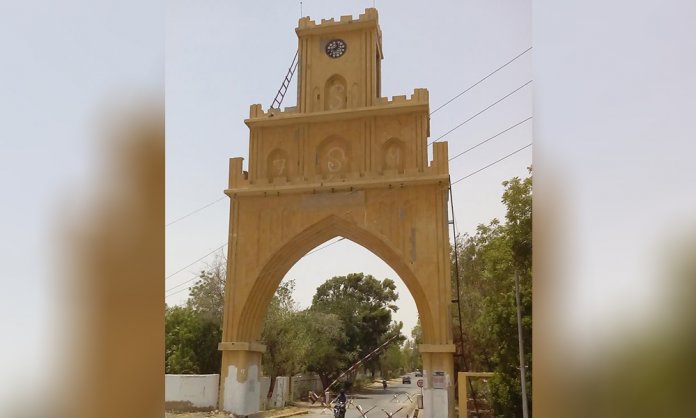 In a shocking move, Sindh University of Jamshoro has banned the Urdu language, reports NewsOne Pakistan.
According to the notice that has surfaced on the internet, the management has declared a blanket ban on the usage of Urdu on signboards inside the university premises.
All building titles will be written in the bi-lingual format of English and Sindhi.
Read the complete notice below.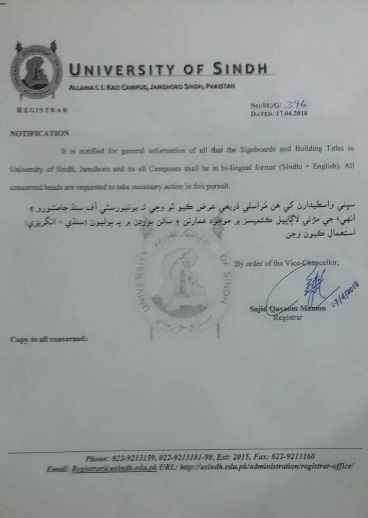 As per the report by NewsOne Pakistan, the representative of the Sindh University of Jamshoro has said in a statement that he has no idea about the new development as he is on a holiday leave.
Meanwhile, the Vice-Chancellor has refused to com+++++++ment on the matter.
Social Media Reacts!
The news has made its way to social media and an angry Twitterverse is lashing out at the university's management.
Racist Administration of University Of Sindh banned use of Urdu in its signboards and building titles. Shameful act -Condemnable and must be reversed ! pic.twitter.com/dJdDCCgWEX

— Wasey-Jafrii (@WaseyJayy) April 19, 2018
جن کے متعصب اقدامات کے باعث "اردو کا جنازہ ہے بڑی دھوم سے نکلے" کہا گیا ان کی جانب سے سندھ یونیورسٹی میں قومی زبان اردو پر ہی پابندی کا حکم سندھ کی لسانی اکائیوں میں تفریق، تنازعات کو بڑھاوا دینے کا مذموم عمل ہے۔ اسے واپس لیا جائے۔ لوگوں کو قریب لائیں، منفیت کی جانب نہ دھکیلیں pic.twitter.com/3dfka90zcn

— Faisal Subzwari (@faisalsubzwari) April 19, 2018
Extremely bias approach of prejudice Sindh Government, "Urdu Zaban Hay Zaban A Alam". So what putting ban on Urdu in Sindh University by its highly extremist narrow minded thick headed VC. Urdu tu Dunya ki zaban hay , Jamshoro ki nahi.

— Qamar Abbas (@MajRizvi) April 19, 2018
What do you think about the move? Let us know in the comments below.
Stay tuned to Brandsynario for more updates.