Update: April 15th 2020
On Tuesday, the Sindh Education Department served show-cause notices to 85 schools for not complying with the government's orders which had been given earlier to reduce fees by 20% due to the coronavirus pandemic, the department's spokesperson said.
Adding on to this, he said, "the schools have not paid their employees and did not reduce their fees by 20%," He also stated that the department had sent show-cause notices to 30 private schools two days ago for violating the government's orders.
The official further said,
So far, we have sent notices to 85 schools,"
Moreover, the spokesperson has warned private schools to pay their staff within a week or else strict action would be taken against them.
---
---
Update: April 9th 2020
On Wednesday, all private schools in Punjab, Sindh and Islamabad Capital territory announced they would challenge the directives for mandatory 20% concession in tuition fee for April and May. They said that they are already suffering losses due to the closure of the educational institutes till May 31.
Kashif Mirza, chief of All Pakistan Private Schools Association said,
"We will petition the court against the orders asking schools to reduce tuition fees by 20 per cent,"
The announcements came after the two provincial governments and PIERA ordered private schools to ensure a 20% reduction in fee and provide job security to the teaching and non-teaching staff.
---
---
The Sindh government has ordered private schools to reduce at least 20% in school fees.
According to the official notice which has been circulated, this concession is for the month of April/May.
The order states that private schools across the province need to consider at least a 20% reduction.
Furthermore, the notice reads that the officials said the orders will be enforced strictly in "letter and spirit".
Moreover, in case of failure to comply, the parents can report the school at the complaint cell which will be set up specifically for this purpose. The telephone numbers for the complaint cell are 021-99217490, 0333-3243148 and 0333-7036425.
On the other hand, teachers and staff members of the institutions can also report complaints if they are not paid salaries for the mentioned months.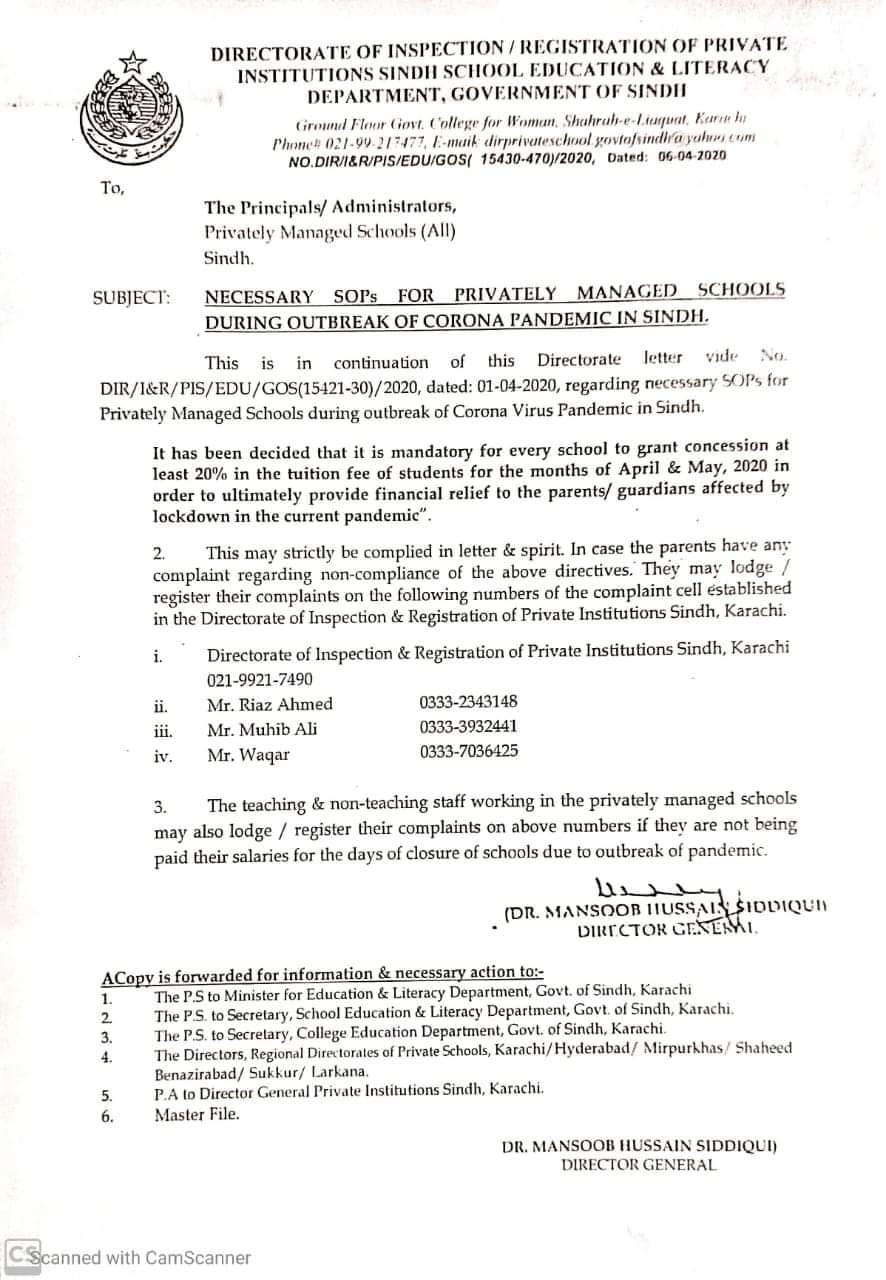 The Punjab Government also put a similar decision on the table which proposed 20% reduction in fees, but private schools rejected the idea.
What do you think about this action? Share your thoughts with us in the comments below.
Stay tuned to Brandsynario.