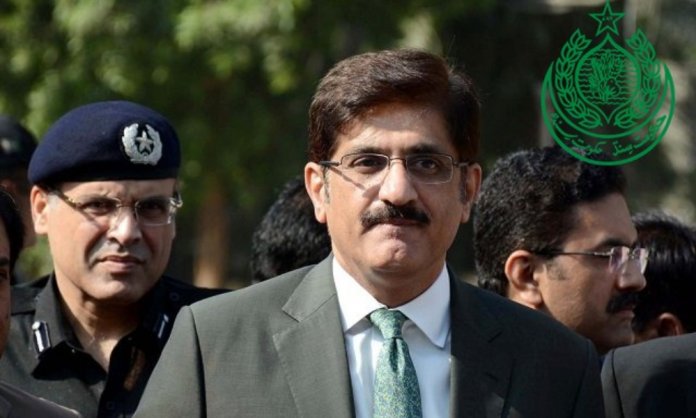 Update: April 15th 2020:
Although the Sindh government has eased lockdown restrictions for 'certain industries' in view of NCC decision, here is a list of what will continue to remain closed in the province:
1. Educational Institutes
2. Marriage Halls
3. Public Places
4. Cinemas 
5. Restaurants (home delivery will be allowed)
6. Shopping Malls
7. Beauty Parlors
8. Electronic Markets 
9. Beaches, parks and playgrounds
10. Religious and social gatherings
11. Public transport
12. Markets and shops selling non-essential items
13. Medical stores that are not close to the hospitals to remain closed between 5pm and 8am
14. Petrol pumps to remain closed between 5pm and 8am
Here's their official notice:
— GOS-COVID19 (@19sindh) April 14, 2020
---
---
Update: April 14th 2020:
On Tuesday, Federal cabinet meeting chaired by Prime Minister Imran Khan approved the extension of countrywide lockdown to contain the spread of coronavirus.
The cabinet has decided to extend lockdown till 30th April across Pakistan. 
According to sources, the government has decided to open skills-related businesses after which, tailors, electricians, mechanics, plumbers and barbers will be allowed to work.
Moreover, the government has also decided to open all sectors related to construction and rules have been issued for the sector.
Remaining sectors such as air travel, public transport, public gatherings, wedding halls, cinemas and public places will remain closed until further notice.
---
---
Update: 31st March 2020
On Saturday, the city's East deputy commissioner ordered the closure of 11 areas of the metropolis where coronavirus patients had been identified as Sindh's infected tally continues to rise, rapidly.

The 11 unions councils sealed are:
UC-6 Gillani Railways, UC-7 Dalmia, UC-8 Jamali Colony, UC-9 Gulshan-II, UC-10 Pehalwan Goth, UC-12 Gulzar e Hijri, UC-13 Safoora, UC-14 Faisal Cantt, UC-2 Manzoor Colony, UC-9 Jacob Line and UC-10 Jamshed Quarters.
Here's what the notification read: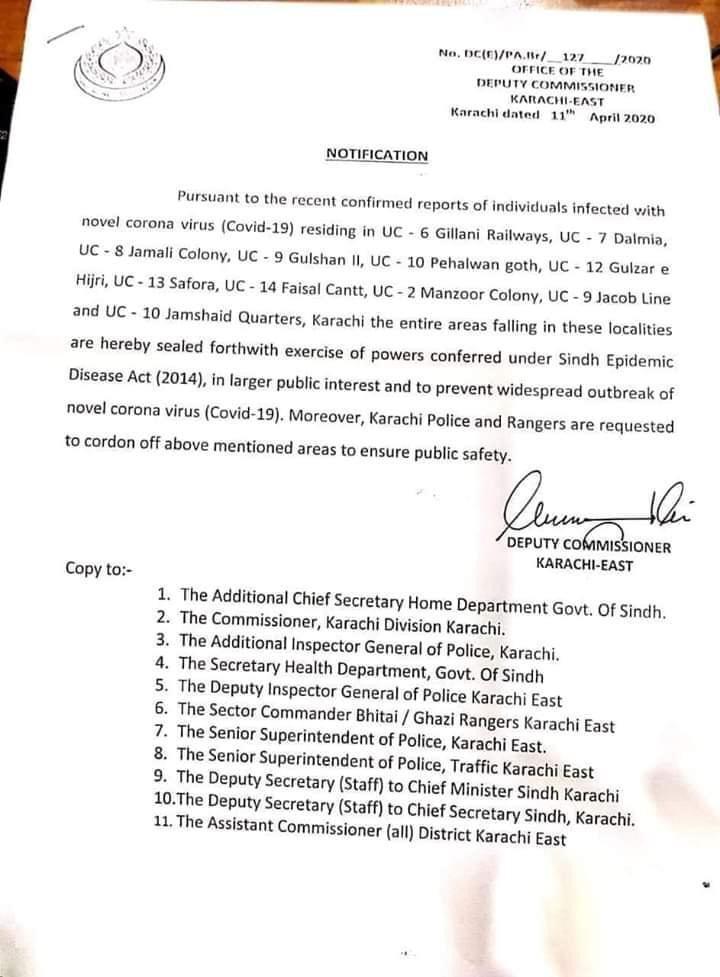 ---
---

Update: 31st March 2020
According to ARY News, Milk shops across Sindh were allowed to remain open till 8 pm during the provincial lockdown.
The provincial home department on Monday issued a notification which allowed the milk shops and sale points to stay open till 8 pm instead of 5 pm.
Here's what the notice read:
"The Government of Sindh has been pleased to allow fresh milk shops/sale points to operate till 8:00 p.m. instead of earlier timing of 5:00 p.m. for the purpose of collecting/storing. However, restrictions on the packaged/powdered milk will remain same,"
Earlier, Chief Minister Murad Ali Shah had announced that all grocery shops across the province will be closed by 5pm instead of 8pm.
---
---
Update: 25th March 2020
The government, despite all its efforts to contain the situation, has found itself with no choice but to impose a curfew. Although PM Imran Khan is not in favor of a complete shutdown, Sindh and other provinces have gone into lockdown.
CM Murad Ali Shah stated that the province will go into a 15-day lockdown. However, it was still not enough to keep people in their homes. More than 740 arrests have been made for violating the lockdown.
Given as to how this situation seems to be getting out of hand as citizens are not listening, the government may need to go ahead with a proper curfew.
Unfortunately, a #COVID19 Patient Afrasiyab, aged 57, who was admitted in Mayo Hospital, lost his life today. These are indeed difficult times for the whole country. Only way we can fight this pandemic is by staying indoors and following the precautionary measures.

— Dr. Yasmin Rashid (@Dr_YasminRashid) March 24, 2020
A copy of the order (document) has been circulation on social media which reads:
Whereas there has been a need to take further preventive measures in wake of increasing CoronaVirus cases (COVID-19) in Sindh, therefore, the Government of Sindh, in the exercise of powers conferred Section 3(1) of the Sindh Epidemic Disease Act 2014 (The Sindh Act VIII of 2015), and in continuation of earlier Order of event number dated 22.03.2020, is satisfied that it has become extremely urgent and important to implement the following additional measures for the purpose of breaking the chain of the spread of the virus.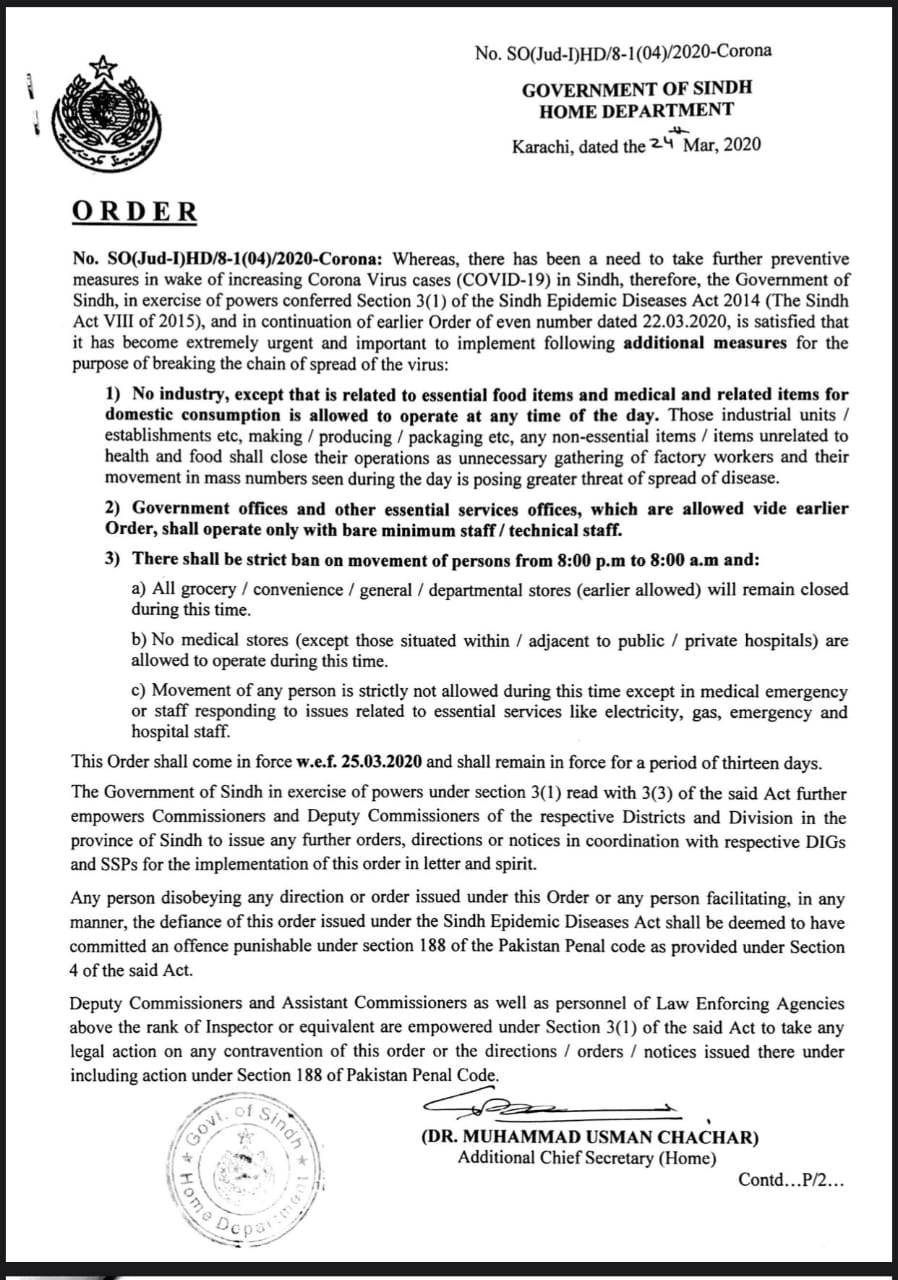 The order is expected to be implemented today onwards for 13 days.
---
---
Update: 22nd March 2020
The Sindh Government has announced an official lockdown in the province. With the increasing COVID-19 cases, CM Sindh Murad Ali Shah has announced that following tonight at mid-night a 15-day lockdown will be set in place.
The CM said that this decision is in the best interest of the public. He added that all offices and public places will be closed while people will not be allowed to gather in groups.
He also stated that violating this can lead up to 5 years in jail.
"People will not be allowed to leave their homes," Murad remarked. "I have no option left but to impose lockdown in the province." He added.
Moreover,  Sui Gas and K-Electric officials have been directed to refrain from disconnecting connections during lockdown!
---
---
Update: 20th March 2020
As of Friday, Sindh CM Murad Ali Shah has asked people to isolate themselves for three days as his team is making all efforts to contain coronavirus. The novel coronavirus has so far infected 238 people in the province.
During the 23rd meeting of the provincial task force on coronavirus, CM Sindh said,
"People should go into complete isolation for three days" and "Please stay home to protect yourself and your loved-ones."
Moreover, he added that because of the increasing number of cases, they are asking people to not go outside as the situation will get worse if it continues. The total number of local or social contact cases in Sindh have risen from 40-51.
Earlier, PM Imran Khan spoke about the coronavirus situation around the world, saying that the US, Italy and England have reacted differently to the virus. Nevertheless, he said that Pakistan cannot afford the same response as European countries.
"Our economic situation is very fragile," he said. "If we close down the country, what will happen to the poor? People will die of hunger here," he said.
However, there are some precautions that the Sindh Government is taking while battling with the novel virus besides closing of Parks, restaurants, malls, marriage halls, cinemas, offices, shutting down all education institutions and gyms and banning all the public gatherings along with maintaining social distances.
Here's what the Sindh Government has been doing amazingly!
1. Sindh Government has delayed and cancelled any social event such as concerts, fashion shows, food affairs that will involve social gatherings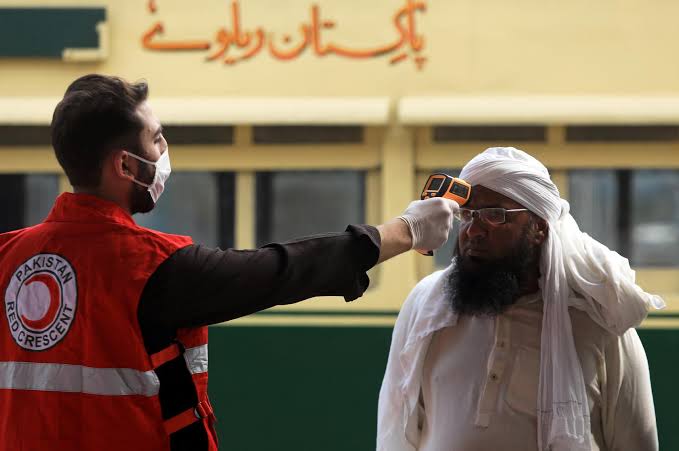 2. Those suffering from high fever and cough or serious pneumonia are being tested for the disease and are quarantined if tested positive at Expo Centre and hospitals if there's a chance of danger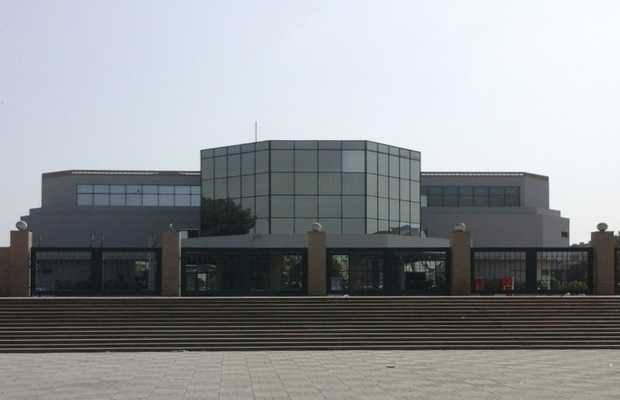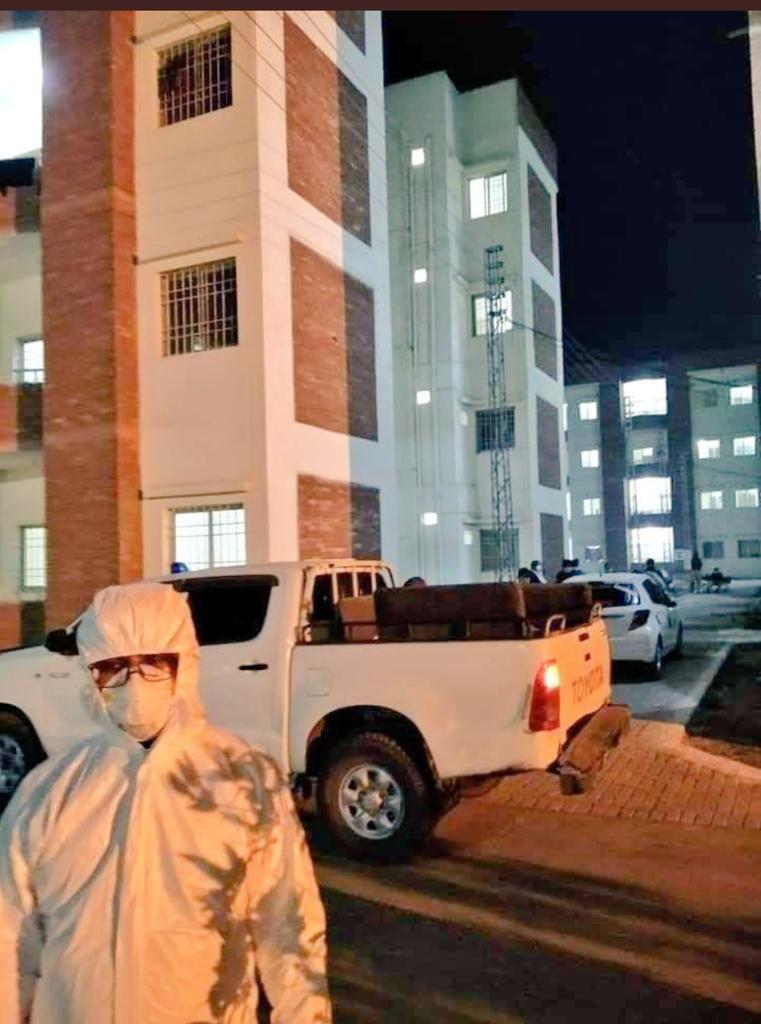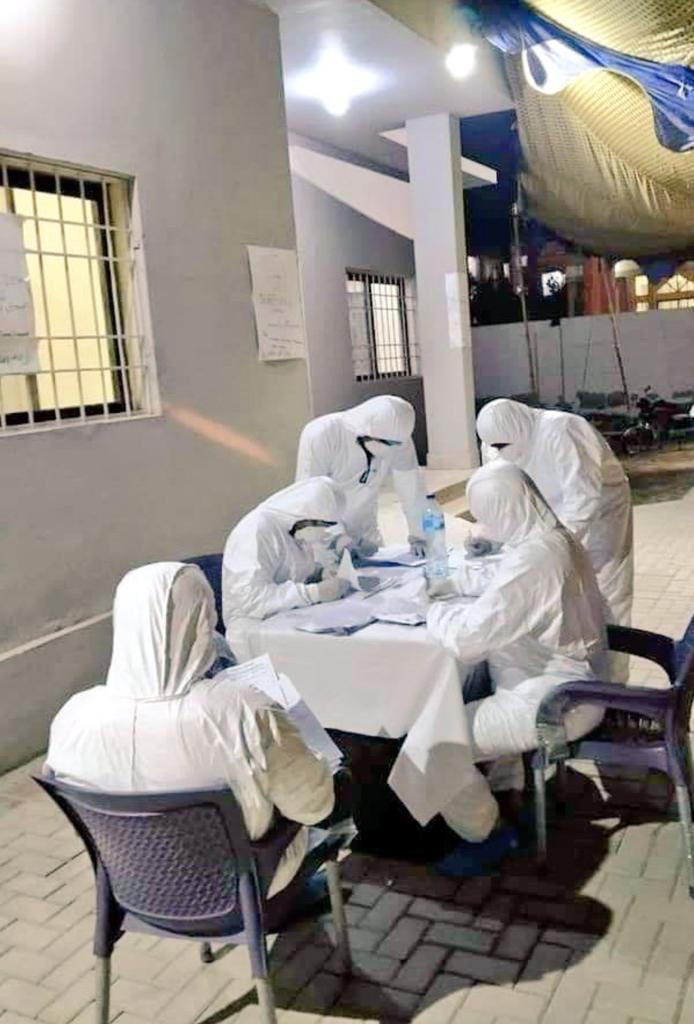 3. Sindh government has also carried and order of shutting down all recreational areas including parks, zoos and Sea View for an indefinite period of time to prevent coronavirus from spreading.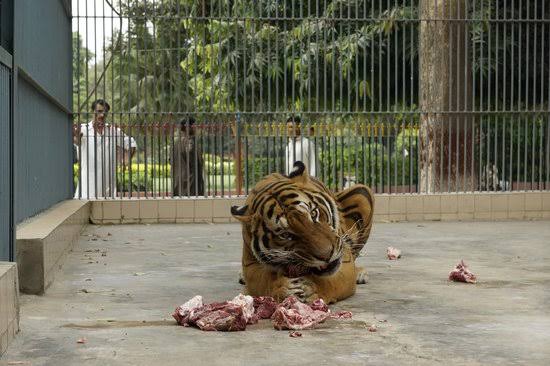 4. There's also a strict screening at the airport of the passengers who have landed from different countries. The airport has also been declared a red zone. 
5. Public transportations have also been discontinued due to the COVID 19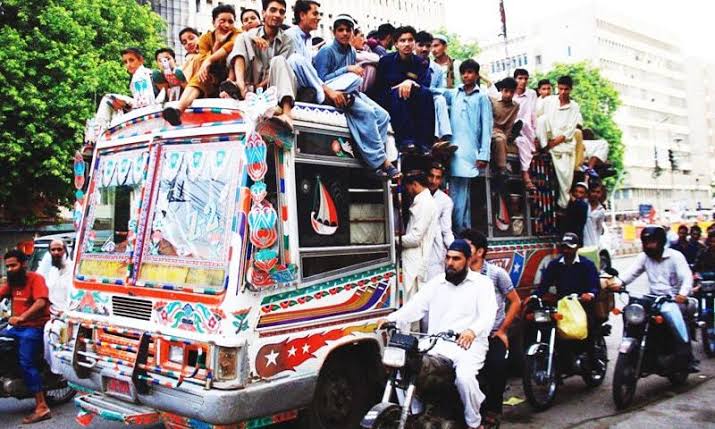 6. Encouraging online purchases of goods such as grocery, clothing and food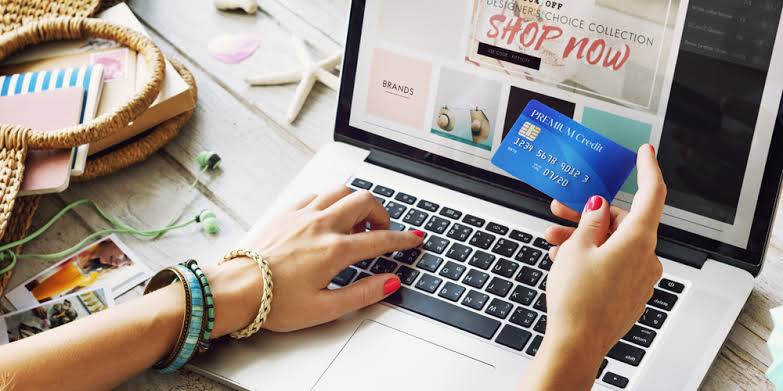 7. Mass quarantine facilities are being set up in Sindh on the pattern of Sukkur quarantine centre that can accommodate at least 10,000 people in isolation simultaneously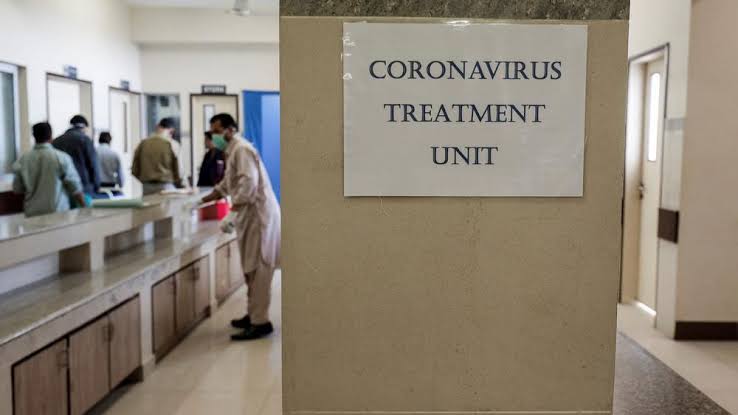 8. Hospital with 120 beds and 16 ventilators has been specifically established by Sindh govt for keeping Covid-19 patients under isolation in Karachi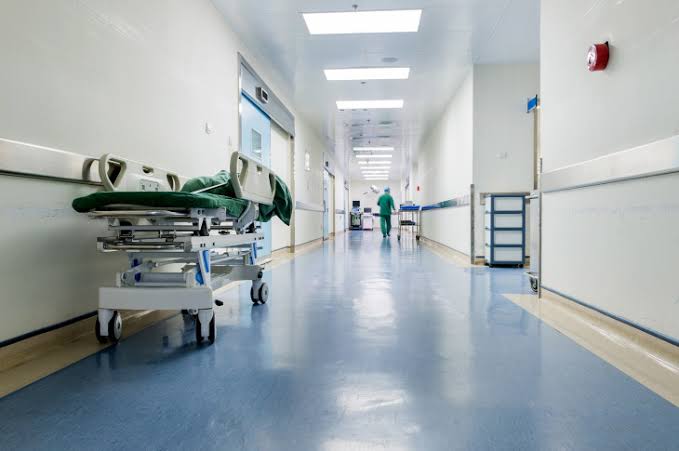 9. The advisory has asked the people to refrain from coming into close contact with each other during the office work especially avoiding handshakes.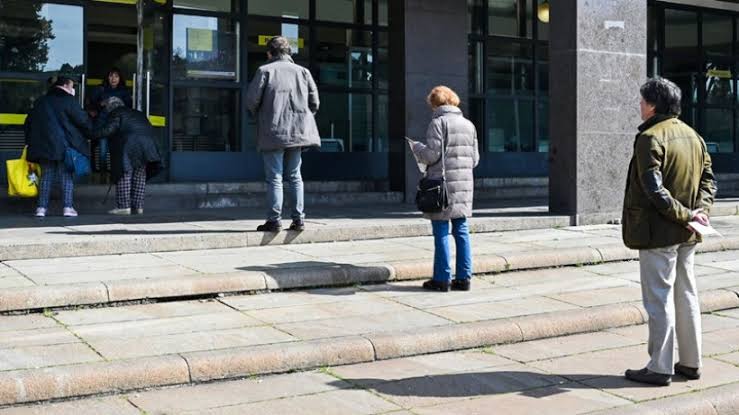 10. According to the spokesman of Sindh government Murtaza Wahab, Isolation Centres have been established in Civil Hospital Karachi, Lyari General Hospital, Dow Ojha Campus Karachi, LUMHS Hyderabad, LUMHS Jamshoro, Peoples Medical College SBA, Ghulam Muhammad Mahar Medical College Sukkur, Chandka Medical College Larkana and Gambat Institute of Medical Science Khairpur.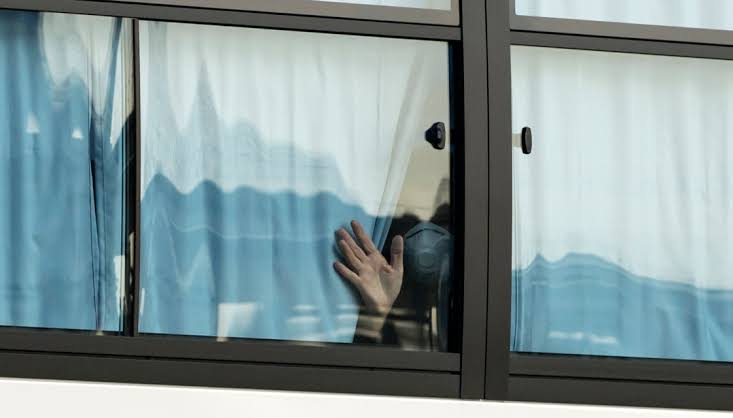 11. Sindh government has also been sending personalized text messages to all the travelers visiting Pakistan from other countries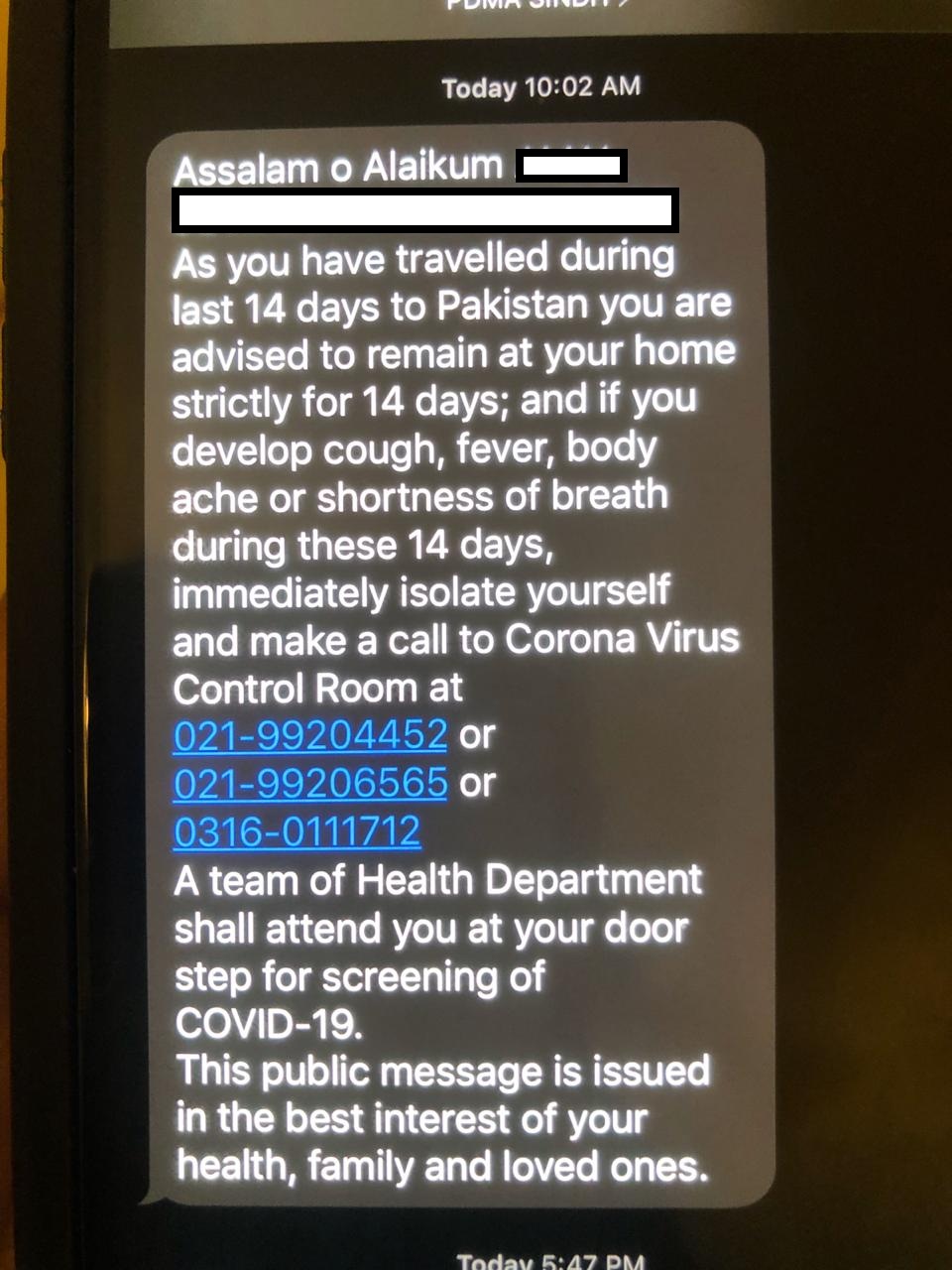 While the country is on a partial lockdown, medicine, grocery, fish, dairy, poultry and vegetable shops and stalls will remain open.
Also, all the government offices, except essential services such as health, local government, water board, etc, would continue work as usual.