Pakistan has seen a lot of new entrants recently in a short period of time. The industry was known to have only a few manufacturers who had been offering the same models with limited features but extremely high prices for decades but now the industry has seen tremendous growth since the past few years.
What Do We Know So Far About The Vehicle?
Sigma Motorsports which also goes by the name, The Trend Changers are some of the well-reputed motorbikes, sports bike manufacturers from Pakistan. They have provided our industry with an entire range of motorbikes that has gained a lot of praise by local motorsport enthusiasts.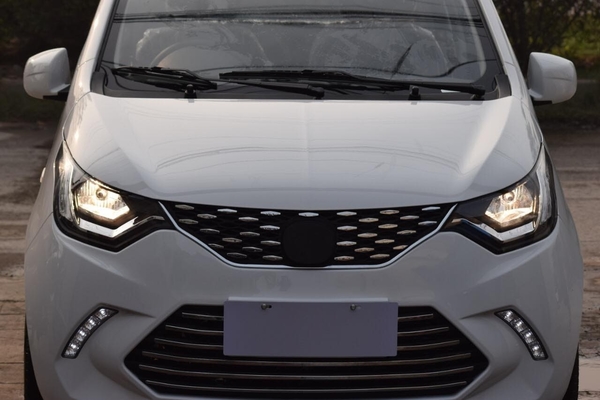 The company has now decided to launch an electric car called the HS Q4 (EV) Electric Vehicle and intends to make its presence all across the country.
The company intends to launch the HS Q4 EV in the following variants:
EV Standard
EVS Solar (with a solar roof that will provide improved charging)
EVS Premium (with a solar roof, an AC and a range extender
According to the information that has been revealed so far, the car has solar plates that makes the car cost-effective and eco-friendly. The car has a BMS too, a Battery Management System that will effectively utilise power consumption of the vehicle.
The car is being launched by Sigma Motorsports and United Autos who are both some of the well-known motorcycle manufacturers of Pakistan and the fact whether it will be a Complete Knock Down (CKD) or a Complete Built-Up Unit (CBU) is yet to be revealed by the auto-manufacturers.
Expected Price
The company also revealed a spec-sheet with a media outlet revealing some of the key-features which included 150-200 KM range extender, 6L Petrol Engine and four colours; Red, Orange, Blue and White. The car is expected to be priced around 2.1 million rupees. Moreover, the prices of different variants are:
EVS Standard (Electric only):Rs. 1,895,000
EVS Solar (Electric+Solar): Rs. 1,995,000
EVS Premium (Electric + Solar + Range Extender): Rs. 2,125,000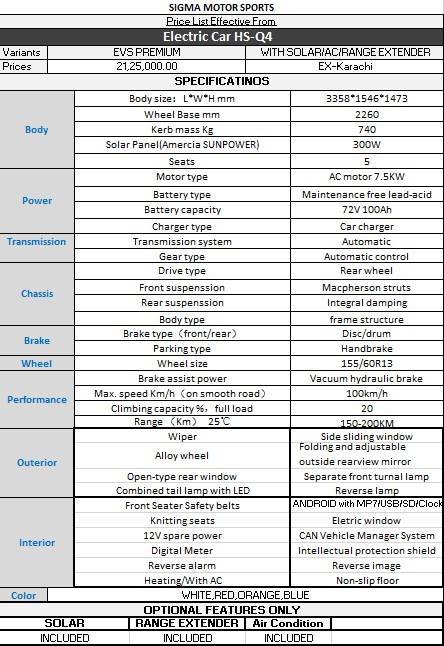 This news comes as no surprise as there have been numerous new entrants that have entered the Pakistani market in the past three to four years and this competition has forced the pioneers to release new models with updated features so that they do not lose their customers' base.
However, this will be interesting to see how the market responds to its first Electric vehicle considering the metrics that are used by local car users to evaluate the performance of a car which includes maintenance charges, fuel average, parts availability etc.
Follow Brandsynario for more news and updates.