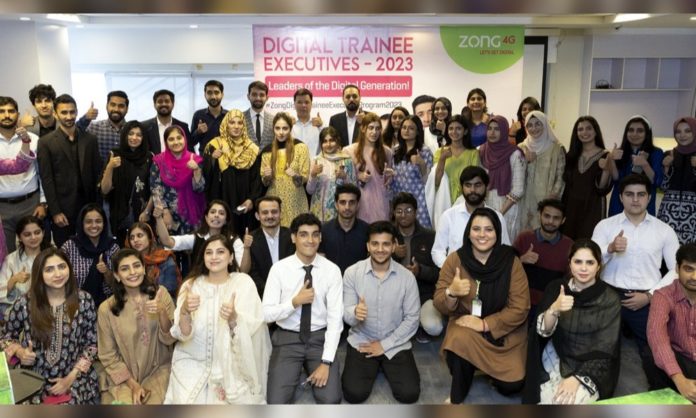 Islamabad, November 08, 2023 — Zong 4G, Pakistan's leading telecommunications operator, has taken a significant step towards fostering the future leaders of the digital era. In a two-day orientation session held on November 1st and 2nd at the Zong headquarters, the company successfully onboarded the Digital Trainee Executive Batch of 2023. This initiative represents Zong 4G's unwavering commitment to nurturing talent, promoting diversity, and providing equal opportunities for fresh graduates from various academic backgrounds.
The Digital Trainee Executive Program is designed to empower young minds with the skills and knowledge necessary to thrive in the digital landscape. In its latest edition, Zong 4G exemplifies its dedication to diversity and inclusion by hiring a diverse and talented group of 36 fresh graduates with more than 50% female diversity ratio.
Zong 4G has been at the forefront of Pakistan's digital transformation, consistently equipping the country's youth with in-depth training and mentorship in the fields of Information, Digital, Communication, & other emerging technologies. The success of the Digital Trainee Programs not only reflects the company's leadership in digital innovation but also its commitment to providing a platform for diverse talent and equal opportunities.
The official spokesperson of Zong 4G, emphasized the organization's commitment to supporting digital and youth-centric initiatives: "Zong 4G's Digital Trainee Executive program has successfully empowered talented newcomers to emerge as dynamic corporate leaders. Our mission is to enable these talented individuals to play a pivotal role in creating a digitally advanced Pakistan."
The onboarding sessions consisted of a corporate orientation and a 360-degree overview of the organization. The DTEs were familiarized with the office premises through a series of fun and informative engagement activities. With the onboarding process now completed, digital experts and telecom professionals of Zong will guide the selected candidates through a transformative journey, exposing them to cutting-edge technologies and groundbreaking projects within the world of telecom that will shape the digital landscape of tomorrow.
Zong 4G continues to set the standard for digital leadership and innovation, driving the evolution of Pakistan's digital landscape by shaping the leaders of tomorrow.