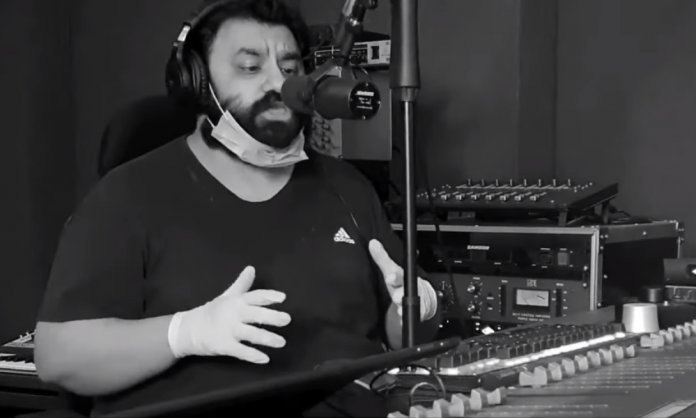 Shani Arshad's jingle is creating awareness about staying healthy during COVID-19. With the pandemic wreaking havoc on us, its difficult to find solace in things, but various activities like cycling, cooking, and running have helped people maintain their sanity. The masses are also relying on TikTok challenges to keep them thoroughly entertained.
One such challenge that took the social media by storm was the #ServiceShoesChallenge, where people made videos on the famous jingle of Service Shoes.
That's when the singer Shani Arshad flaunted his skills, and while he was adequately covered with masks and gloves, the singer chanted another catchy version of the Service Shoes.
A playback singer and songwriter, Shani Arshad broke into the music industry as a keyboard player.
The song is an awareness for people to maintain social distance, follow precautions, and maintain hygiene. So, guys, listen to Shani as he brings you a lockdown version of Service jingle.
This is the perfect way of conveying the message across that the novel coronavirus is a deadly disease, and we must take precautions to avoid it. Arshad has cleverly told people to stay in quarantine and be smart.
The singer's musical breakthrough arrived when he was 18 with a track he produced for Junaid Jamshed's solo record, 'Dil Ki Baat.' Right after that, he tried his hand at television commercials, composing hundreds of jingles in a span of very little time.
Arshad has worked with several of the country's top musical names like Sajjad Ali, Shafqat Amanat Ali, Raheem Shah, and Najam Sheraz, to name a few.
Furthermore, his film career includes the title song he composed for Priyadarshan's Bollywood movie, 'Khatta Meetha'; and locally for critically acclaimed 'Main Hoon Shahid Afridi' (2013), 'Na Maloom Afraad' (2014), 'Bin Roye' (2015) and the most recent work with the soundtrack of 'Actor in Law' (2016).
His work speaks for itself, and this quarantine jingle has topped it all. Service challenge had people flaunt their creativity while having fun in lockdown, which is another plus for the brand. It's a great marketing strategy that involved all the customers of Service having a ball.
Watch this fun service challenge video below:
Here's another fun jingle that you might like: 
So are you all doing everything you can to remain healthy during the deadly COVID-19? Let us know.