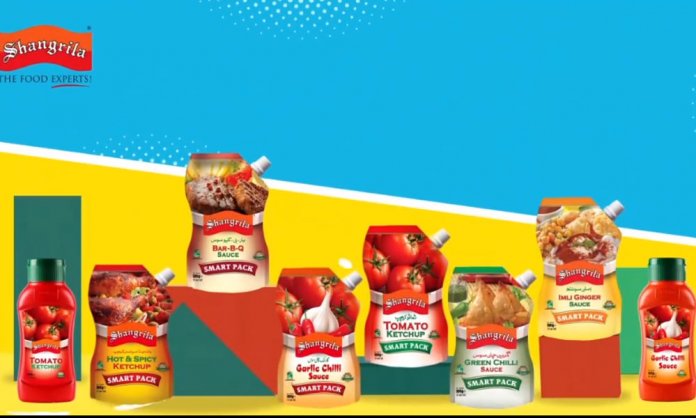 The ingredients to the perfect recipe can easily be found with a simple tap or click. However, what does it take to make the perfect TVC?
You need an ultimate balance of color, creatives, visuals, a dash of fun and enjoyment, a tablespoon of the perfect voiceover and sound effects, and last but not the least animations.
Toss it all together and voila! You have a visually appealing advert!
Shangrila Ketchup and Sauces has broken through the clutter by rolling out an appealing TVC which will surely leave you craving for more.
After all, what are fries without ketchup and life without flavors?
We really cannot imagine indulging in our favorite snacks like samosas, kachoris and delicious pakoras without your favorite Shangrila Garlic Chilli Sauce or Shangrila Green Chilli Sauce.
Especially in Ramadan, there is no better feeling than eating a tempting treat, doused in delicious goodness of Shangrila's hot and spicy ketchup.
The Shangrila TVC featuring ketchup and sauces matches everyone's most loved dishes with their large lineup of Dips. If you are looking to spice up your BBQ or want to make your boring burger more fun, Shangrila has all the Dips you need to take your tastebuds on a rollercoaster with its Imli Ginger Sauce and BBQ Sauce.
Prepared with fresh and carefully selected tomatoes, chilli, garlic, tamarind, and ginger, Shangrila ketchup and sauces make snack time, fun time.
Moreover, the campaign shows how creatively a simple product like ketchup can be very desirable.
The video uses very colorful and attractive visuals with a catchy voiceover in the back. It visually shows the consumer how delightful a dish becomes when it is paired with a Shangrila Dips.
The concept of using stop-motion has been perfectly adapted by the production team. With the smart angles and expert food styling, the TVC is no less than a visual treat.
Watch the Latest Shangrila TVC Below!