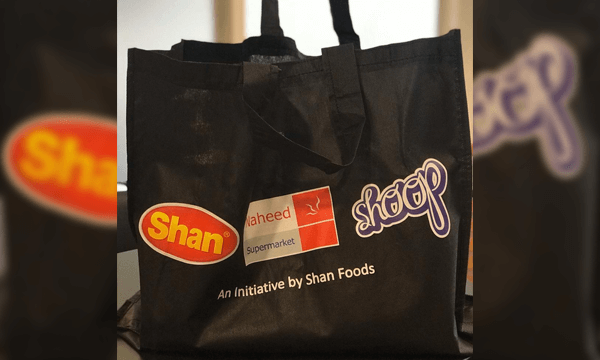 The Government of Pakistan has taken initiatives to reduce the plastic footprint in the country. A recent case in point is the ban on plastic bags levied in different cities including Karachi.
The Sindh government had imposed Section 144, a ban on polythene shopping bags in the metropolis from 1st October 2019.
On the other hand, brands are also playing a huge role in the country's strive to plant more trees and to rid the Earth of non-degradable plastic.
One such brand that is doing their fair share to give back is none other than Shan.
Being a leader in its respective industry, Shan has introduced reusable eco-friendly bags in an attempt to show the company's awareness of responsibility towards its environment, society, and law.
The bags are made of nonwoven fabric and will be distributed free of cost to customers visiting all Naheed Supermarket branches in Karachi.
Environmentalists have stressed on the issue of unethical solid waste disposal. Time and time again our marine life has brutally suffered the consequences of this. According to a study by Ocean Crusaders, it was found that there are 5.25 trillion pieces of plastic debris in the ocean.
Unfortunately, 100,000 marine creatures become the victim of our poison and die from plastic entanglement and these are the ones found. Approximately 1 million seabirds consume plastic and die.
What's scarier is the fact that at least two-thirds of the world's fish stocks are suffering from plastic ingestion, which means the fish you are about to put inside your mouth has possibly died from plastic you threw into the ocean!
These are just some of the countless examples of how our un-disposed plastic waste is killing our environment.
Change starts with you! For those of you who wish to also make a difference, there are many steps you can take. The first is to stop using plastic bags and use recyclable or reusable bags. Two, replace plastic with glass. Three, use proper means of disposal instead of littering.
Kudos to brands like Shan for stepping up to play a huge part in cleaning our eco-system one plastic bag at a time.