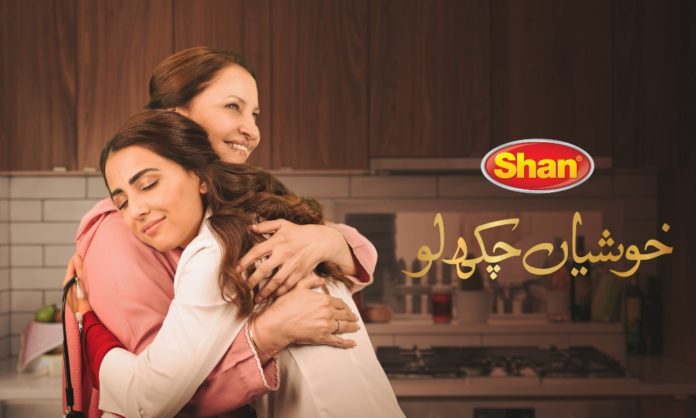 Shan Foods launched their campaign #OathForHer in February to highlight the importance of choice for women – so that they are given the space and support they need to choose and pursue a career, be a housewife, or both. The campaign also sheds light on a prevalent issue in Pakistan: The obsession with doctor daughters-in-law.
According to Humayun Shaikh, Director Marketing, Shan Foods, at the heart of the campaign lies a commitment to change the narrative around women in our society and develop a space of encouragement and support so women are empowered with the freedom of pursuing their dreams. The brand aims to change the status quo and become a woman's best ally and "the message is not just restricted to a certain part of the society, but for all woman and their families across the nation, because to follow their dreams, it is important for them to have a helping hand so that they can balance their personal and professional lives. This is our way of appreciating females in our lives," he says.
"The brand wanted to create an impactful campaign that highlights the role of the brand in their everyday life as well as touch upon their #MoreThanJustACook theme that they have established in the last few years, that cooking is a shared responsibility and not just the wife or daughter-in-law's job," explains Atiya Zaidi, Managing Director and Executive Creative Director, BBDO Pakistan (Shan Foods' creative agency) and adds that the agency wanted to amplify this ideology with a real and meaningful purpose.
Keeping the above in mind, the agency came up with the idea to highlight the issue of decreasing female doctors from the field in the TVC and craft it in such a way that it ties in with the brand message. Zaidi adds here that though in the campaign, they could have focused on all working women or any other field such as engineering or arts, there was a strong reason for going with female doctors. "If you take a look at the academics of Pakistan, girls outshine boys by a mile and when it comes to medical schools, naturally girls get more admissions on merit than boys, so much so that around 70% of the students in all medical colleges around Pakistan are girls," she says.
Furthermore, out of all the girls who graduate, only 23% practice in the field and 77% do not (source: Pakistan Medical Association), and this is a big number considering the resources and hard work that goes into becoming a doctor.
Here's the ad:
She says the primary reason for this brain drain is that these women are married off as soon as they complete their education. Either they become doctors to get good husbands from good households or they are not allowed to practice medicine as the job requires long hours; they are told by their in-laws to stay home and focus instead on the household chores and raising their children.
"Ironically, when the same women go to hospitals for any treatment, they ask for lady doctors, but where are they? With one of the highest numbers of maternal deaths, infant mortality and breast cancer rates in Asia, Pakistan needs its doctors."
"Since the data and statistics about female doctors not practicing was staggering, and the insight has become on that impacts not only our female doctors, but the women in the health care system in Pakistan, we decided to focus on this issue," Shaikh adds here, seconding Zaidi's statement.
They both agree that they are in no way negating women in other fields and their struggles, but "we really need female doctors to be practicing and not just thinking about what to cook for dinner."
According to the agency, casting the right actors was critical for the film because it was important to convey all the messaging via emotions and very few words, and for this, there was a rigorous auditioning process for the roles. "Ultimately, we were happy and satisfied with the ones we selected."
The primary target audience for the campaign is progressive, evolving females between 18-24 years, from SEC A, B, C and D, who are aware of their worth and who seek convenience and are accepting towards change. The secondary audience is traditional females from the same SEC background, between 30-34-year-old experienced housewives who still believe in their own masala mixes.
"Overall our aim was also to target mothers-in-law and mothers to convince them to change their thinking and how they view their daughters-in-law," says Zaidi.
Since this is a purpose-driven campaign and not a thematic one, the brand is looking to go beyond TV and digital for this for more than a year. "Given how approximately 77% of female doctors are unable to practice medicine after graduation, we felt it was crucial to spread our message far and wide in hopes of making a difference. The first step was to create awareness through our PR leg, where we had key opinion leaders from various backgrounds shed light on the issue at hand," says Shaikh.
Once the conversation was initiated, the brand unveiled their communication on TV to show how Shan Foods, as a brand, can be an enabler of change when it comes to the 'DoctorBahu' phenomenon. The brand is now encouraging people to take #OathForHer on digital and is currently working on activating multiple touchpoints as well to play an active role in creating a meaningful impact in the lives of women.
"The responses the brand has received so far have been phenomenal", says Sheikh. "So many women have told their stories about how they were supported by their families and in-laws to go after their passions and thousands of people are taking an #OathForHer to support the women around them."
Going forward, he says there are multiple things in the pipeline in line with the brand's overall communication strategy to celebrate the ever-evolving role of women and their contribution to our society.
"Our vision remains to be an iconic culinary brand enjoyed on every table, every day across the world. Shan Foods has always stood for people coming together over authentic taste and the convenience of cooking great food. Over time, as the company has grown, our vision has translated into a greater purpose – to be a catalyst of change with regard to how we view women's role in the South-Asian society," Shaikh concludes.
(Shan Foods today, is the leader in recipe mixes in Pakistan, with over 60 variants available in the market.)