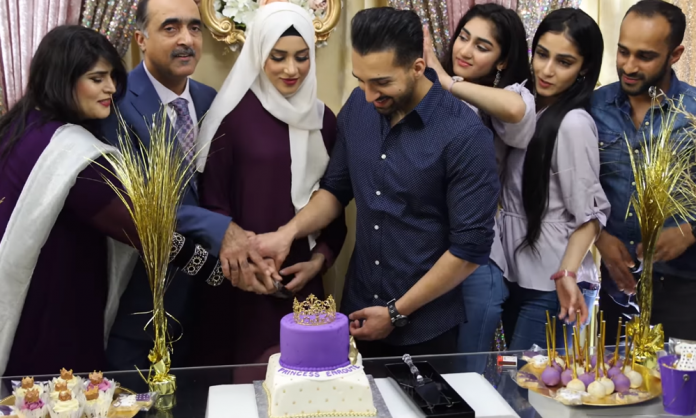 The Vlogger who has stirred the most controversy on internet is now expecting a baby girl.
YouTubers Sham Idrees and Queen Froggy are awaiting the birth of their first child who will be daughter, expected to arrive soon.
On Monday, Sham took to his Instagram account and announced that he is exhilarated to meet his 'little baby girl.'
"Inshaa'Allah we get to meet our little baby girl soon all happy and healthy. Say Mashaa'Allah," Wrote Sham Idrees on the post that he shared over his Instagram.
They also posted a shot of the pretty cake which had 'Princess Enroute' written all over it with a cutesy crown frosting on top!
In August last year, Sham and Froggy announced that they are going to become parents.
"We wanted to share some beautiful news with you all. We are becoming parents. Alhamdulillah. Keep us in your prayers," Sham said.
The about to be parents revealed that they will be naming their little bundle of joy 'Sierra.'
The theme of the bridal shower was purple, however, there were hues of white, pink and golden which added the color at the party.
Sham Idrees and Froggy got hitched in December 2018 and the wedding celebrations were held a few months later.
The couple have been sharing their love life and adventures on social media and in August 2019, they notified that they are going to become parents soon.
Here's the full video of the shower that the Canadian Vlogger Idrees shared on his YouTube.
https://youtu.be/zpNGQMMGHzk
Congratulations to the happy couple!