Shahveer Jafry's wedding may be one of the happiest events and times of his life but it is also slowly becoming one of the most hated for his online community. The Youtuber stayed out of criticism throughout his career but now his marriage seems to be giving critics something to chew on. 
The Marriage
The couple got engaged in a lavish ceremony and the events seemed never-ending. However, it also made rounds on social media as several notable members of Shahveer Jafry's clan were present, for instance, Zaid Ali! Have a look at the wedding pictures:
View this post on Instagram
View this post on Instagram
Honeymooning Too Hard
Read more: Shahveer Jafry Under Fire For Making An Irresponsible PSL Joke
We wish the couple would have chosen a better destination for their honeymoon but alas, what can we say? The couple jetted off to the Maldives and since then, has been littering their social media with posts from there. Now, the issue is that these posts are super lovey-dovey, intimate, and romantic — which is a recipe for disaster when it comes to the Pakistani audience.
Their posts have thus come under a lot of criticism, just like Minal and Ahsan Mohsin's did! Have a look at the pictures:
View this post on Instagram
View this post on Instagram
View this post on Instagram
What Are People Saying?
People are particularly irritated by the couple wanting to be like 'goras' because in their minds only goras are romantic. Moreover, they want the couple to stop sharing their "private" pictures. According to the audience, if a couple is hugging or holding hands in a picture that picture is private. Keep it to your camera roll! Here are all the comments coming Shahveer Jafry's way:


There's more: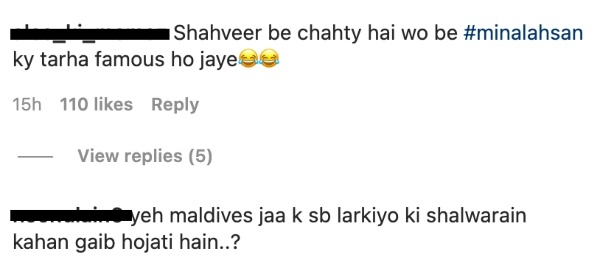 Criticism Over Other Things
Another thing related to Shahveer Jafry's wedding that he recently got criticized for was a signboard. In some of their pictures from their Barat day, a sign was visible in the background that was super problematic. The sign barred drivers and workers from entering the venue which made netizens upset.
Read more: 'No drivers, no guards' – Shahveer Jafry's Picture Makes Pakistanis Angry
Are they not human? Moreover, this sign was the epitome of the classist behavior that has become normalized in Pakistan. Shahveer Jafry, however, argued that he was not aware of the sign and no one in his family saw it here. Quite a lame excuse but hey, it's over now.
Stay tuned to Brandsynario for the latest news and updates.