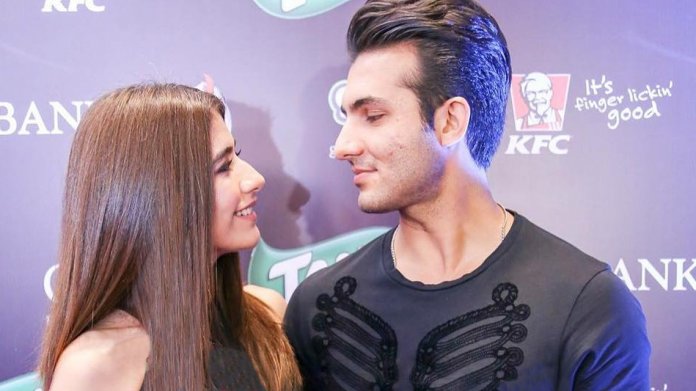 The whole of Pakistan was waiting for the first ever superhero movie, Project Ghazi! With a trio of top actors, promotions in full swing, and all the hype weaved around the massive flick, it was expected to create a splash at the box-office!
But who would have known that Project Ghazi's release will get postponed just a day before its release!
Surprising right? We wonder if that has ever happened before in history!
Last evening, Project Ghazi's premiere became a night of horror for all as huge technical difficulties were discovered in the film during the screening, making it an unbearable watch.
Of course, Humayun Saeed, Shehryar Munawar, and Syra Shahroz now are bound to be crestfallen over the chaos that has happened!
But who knew, Syra's own husband will take advantage of the sad situation to promote his own upcoming movie Chain Aye Na.
Taking to Instagram, Subzwari trolled his wife about the Project Ghazi's big disaster, but ended up making it really cheesy!
He wrote:
Don't worry GHAZI, Soon Chain Aye Ga 🙂 Love you
Oh well, it is apparent that Shahroz is trying hard to create positive publicity for his debut film. However, with its trailer unable to impress the critics and being an epic fail, we doubt if Chain Aye Na will be able to convince cinema-goers to watch it.
So now social media is having a field day, stating that both Project Ghazi and Chain Aye Na are competing with each other in a contest of "Battle of the Flops"
Didnt humayoun saeed walk out of the #ProjectGhazi premiere? Postponed right? Bad sound or something?

— I. (@imdadawan) July 14, 2017
#ProjectGhazi Bhai animation pey tou kuch paisay khurch ker detay. horrible.

— Laiq (@laiqqureshi) July 14, 2017
However, jokes apart, we hope both the movies end up working wonders on the box-office. Especially, Project Ghazi! It will be great if Pakistan's first ever super movie is the one we will always be proud of.