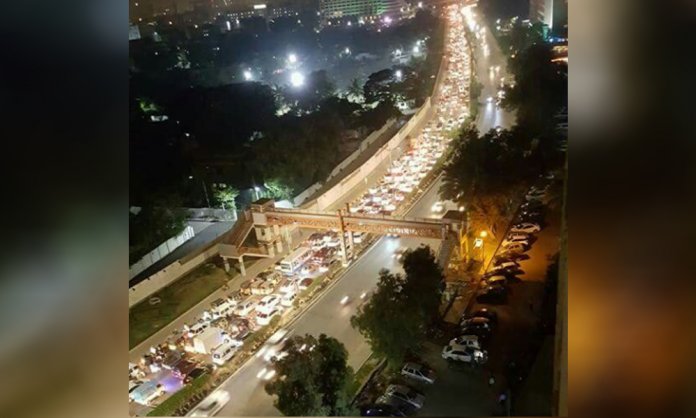 Traffic jams have become a norm in Karachi. Despite the fact we now don't bat an eye on traffic problem, the traffic in the metropolis has recently surpassed an average Karachiites patience level.
Almost every day, the citizens are stuck in bumper-to-bumper jams and it seems there will be no end to this agony.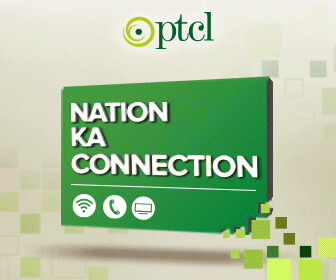 KARACHI LAST NIGHT!
#Karachi: Earlier tonight – Aerial view of massive traffic jam on Shahra-e-Faisal near #AyeshaBawaniCollege heading towards #RegentPlaza. #KHIAlerts pic.twitter.com/Cie8OTeP1T

— SherY – (@SheryS_Official) December 28, 2017
However, the metropolis witnessed probably the most horrible traffic situation of the year as repair work on the main sewerage trunk near Metropole Hotel, Shahrah-e-Faisal created a massive nuisance for the commuters.
Sharah-e-Faisal Per Metropole Ke Qareeb Marammati Kaam; Nursery Se Mehran Hotel, Saddar Or Jinnah Hospital Ke Aitraf Badtareen Traffic Jam. #Karachi pic.twitter.com/4g0lgsC1ww

— Karachi Alerts™ (@Khi_Alerts) December 28, 2017
What was worse, the citizens did not see this coming as no announcement was made prior to the blockage by the authorities.
As reported by the Express Tribune, this repair work will end by Wednesday. Apparently, a 56-inch diameter line sank a few days ago and affected the area from Fatimah Jinnah Road to Cantt Station.
#Karachi: Due to Sink hole traffic diverted from #HotelMehran towards #AtriumMall road #Saddar, U-Turn is near #AvariTowers. Massive traffic jam on Shahra-e-Faisal. #KHIAlerts pic.twitter.com/TQFymk6NsQ

— SherY – (@SheryS_Official) December 28, 2017
Later in the day, a press release was issued to state alternative routes but apparently, it did not help the citizens much!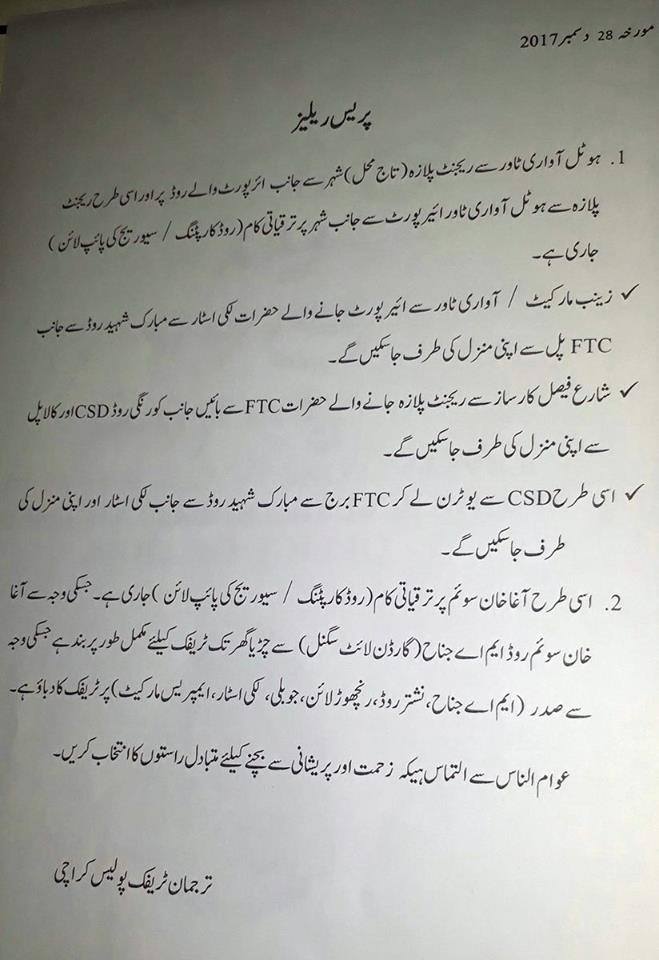 As per reports, this adverse traffic situation will continue for at least two days. 
#Karachi: #HotelMehran road near #AvariTowers heading towards #Metropole is still blocked for development work.
Options:
1. #FTC towards #KalaPul
2. Corridor-3 towards #Saddar
3. #Lyari Expressway #KHIAlerts

— Murtaza Kazmi (@mabbaskazmi) December 29, 2017
It is suggested to stay updated with traffic and plan accordingly to avoid being unnecessarily stuck for long hours.