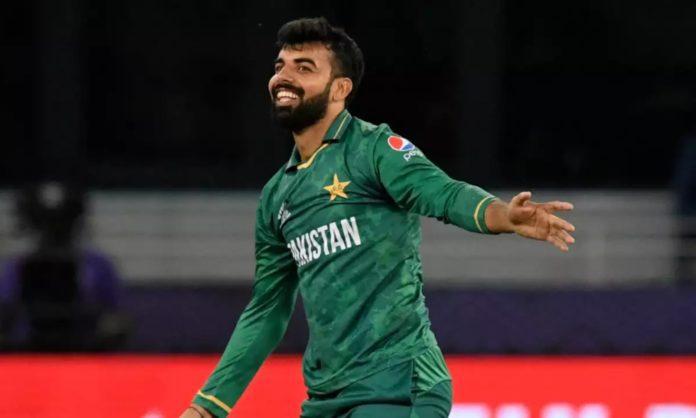 Shadab Khan, the Pakistani cricket team vice-captain got married to Saqlain Mushtaq's daughter, a former Test cricketer. The reception for the cricketer took place in Rawalpindi. The all-rounder of the Pakistani side revealed that his marriage had not previously been scheduled.
Shadab expressed his excitement to begin a new chapter in his life in a video that the Pakistan Cricket Board (PCB) posted online. Shadab responded that the marriage season in the cricket community wasn't anything that was planned. "I wasn't ready for marriage, and neither was Haris Rauf. Shan and Shaheen had already begun to plan their nuptials. Weddings occurring back-to-back are merely coincidences," said he.
Ever since fans have wondered about what their "sister-in-law" looks like, a lot of rumors and curiosity have revolved around her background, her looks, and her interests because she's both Saqlain Mushtaq's daughter and now Shadab Khan's wife too. All we know is her name is Malika Saqlain. However, she recently went viral for not really the right reasons. As expected she has been spotted in the veil and people have offered the sweetest thoughts about it.
Burqa-clad Shadab Khan's wife was seen in the stadium where she had gone especially to see her husband. Many supporters have expressed how they feel about Shadab Khan's wife's photos being posted on social media. Some believe, he didn't post it on social media because he wanted to keep his marriage hidden. While some admirers have expressed how positively they felt. Look at these comments.
Shadab Khan wife at statduim last night match at #PSL pic.twitter.com/hv3nt4lA68

— The Hood (@AsiaThehood) February 25, 2023
While Shadab Khan majorly surprised his fans after he made an announcement regarding his Nikkah. But, he wrote in his tweet 'Salam everyone. Alhamdulillah today was my Nikkah. I am becoming part of my mentor Saqi bhai's family. When I started playing cricket, I wanted to keep my family life separate, my family has also opted to stay out of public light. My wife has asked for the same, she wants her life to remain private. I would kindly request everyone to respect her choice and our family's choice. However, if you want to send salami, I will send an account number." 
Many fans thought that people commenting on all sorts of things about his wife's looks was highly unethical. Others, however, expressed positive thoughts.
Shadab khan didn't bring his wife in the public for some privacy but still people are making his wife's picture viral and that too when she's wearing a veil 🤦

— Amnah Jabeen (@AmnahJPlus) February 19, 2023
Shadab Khan with wife🤗
Masha Allah👑🫀 pic.twitter.com/6Fd1Q3NHmi

— ر و می🧸🩺 (@CuteHunYar) February 20, 2023
Pathetic nation Even Shadab Khan clearly said that Please respect my privacy And her wife is doing pardah But phir b sab ko us ki wife ki pics share kar raha ha .PATHETIC OR BATMEEZ NATION.

— M.i.n.a.h.i.l (@Messy_meeeee) February 26, 2023
Shadab khan wanted privacy but here PSL cameraman zooming in to shaddy wife 😭😂 pic.twitter.com/eW4FhaFnG3

— طاہر زاہد (@TahirMKhan8) February 19, 2023
Psl yesterday in stadium two cuties arrived Hasan Ali wife and shadab khan wife …🖤 mashallah so beauty 😍@hasanali @76Shadabkhan pic.twitter.com/O812resErg

— Fahad Khan (@Faddykhans) February 25, 2023
Shadab khan's wife 😀🤣 pic.twitter.com/iGYMiV4cQN

— POOJA 🇵🇰 (@pooja__makhija) February 16, 2023
Shadab Khan With His Wife…
Cute couple MaShaALLAH#HBLPSL8 #PSL08pic.twitter.com/yFBOo6PCtq

— Ahtasham Riaz 🇵🇰 (@AhtashamRiaz_) February 20, 2023
The captain of Islamabad Shadab Khan failed very badly today in front of his wife and did not bid well. Now the question is rising that it was the pressure of the match or the pressure of his wife in front😂😂

یہ ایک فنی ٹویٹ ھے صرف مزاق کے لیے کی کوئی پرسنل نہ لے💯💫 pic.twitter.com/60DYnVl2hD

— 🇵🇰(بابر اعظم فین ) (@saidafaqkan) February 19, 2023
So what are your thoughts on Shadab Khan's wife's first glimpse going viral over social media? Let us know in the comments below.
Stay tuned to Brandsynario for more news and updates.