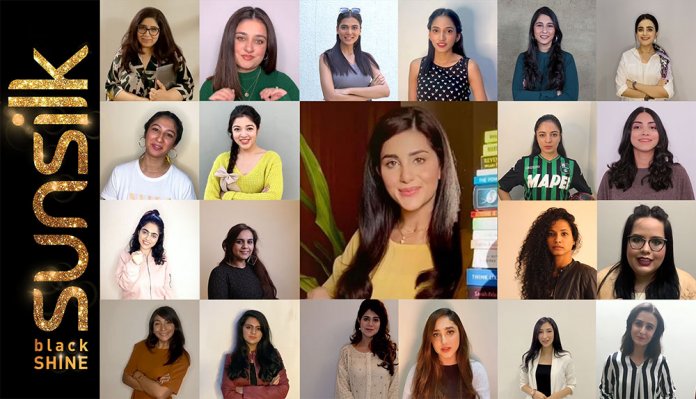 On the 8th of December, several influencers and celebrities started posting black and white pictures, with their faces turned away and only their hair showing. Little did we know these posts would be the start of a brilliant campaign that empowers girls! One by one stories of inspirational girls were unveiled who showcased determination and changed the conventional narratives.
What Are The BnW Pictures About?
Black and white pictures are often used in order to convey the gravity of an issue. It can show that due to a reason, all colour has been robbed of something, and the fact that these girls showed their hair, in said pictures, obviously had a meaning.
It potentially reflected the harsher and negative things many girls have heard in their lives about their capabilities — where all they were told was that they could and should only take care of their homes – "baal sambhaalo" ! All the said girls highlighted the limitations that were created when they wanted to embark on their journey. People set different roles for them and expected something different from them.
View this post on Instagram
View this post on Instagram
But #SunsilkPk has turned the Narrative around
The #ShaanSeShine campaign has shown that these barriers are only there to be broken! The static posts got optimistic with the next post  of videos where these girls were seen as bright, beautiful, and powerful with their luscious hair.
The girls turned around, told their stories of how they confronted their limitations, broke barriers, and succeeded by shining in and out.
View this post on Instagram
Stories That Deserve To Be Re-told
Amongst the celebrities and influencers were stories that we all can relate to. They all came from different backgrounds, a yoga instructor, an actress, a travel vlogger, a journalist, or a home-based entrepreneur –  all-girls sharing the same strength and determination! They were told, "you are a girl", "you're fragile", "You don't know anything about business, "It's not good to be interacting with strangers so much"-  "Sports is not for girls"
View this post on Instagram
Irrespective of what they heard, these girls have shown us that once you break past these barriers, fulfillment and success awaits. Are you inspired by their #ShaanSeShine moments? We sure are!
The Comments Are A Sign of Change
The comments of such posts are usually full of derogatory and discouraging remarks. However, a change is on the horizon and we're eager to be witnessing it! People were incredibly encouraging, appreciative, and proud of all the girls who chose to stand their ground.
A person can try their hard to break society's shackles but their struggles are in vain if others are not inspired. Many girls out there are loving the narrative of how we can take care of our hair without making it something that defines our limitations.
A Much-needed Breath of Fresh Air
This campaign by #SunsilkPk #ShaanSeShine is a breath of fresh hair. Pakistan truly needs more campaigns that highlight what obstacles girls face so more awareness is created. Moreover, it also truly needs those campaigns that show that girls have courageously fought back.
Often the lives of girls under the camera lights seem unrelatable to many. This campaign has shown that we all start from the same point. Most importantly, it shows that we can reach great heights! It's incredible how the narrative of #ShaanSeShine strengthens, inspires, and makes many of us girls proud!
Stay tuned to Brandsynario for the latest news and updates.