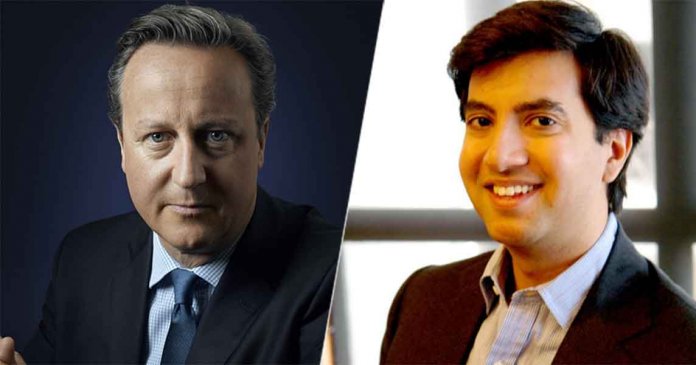 Afiniti is the world's largest Artificial Intelligence startup valued at over a Billion dollars. The firm, a leading AI based behavioral pairing technology provider has recently announced Former Prime Minister of the United Kingdom, David Cameron as the newly appointed Chair of Advisory Board.
He will be joined by Vice Chairman of the Joint Chiefs of Staff, Admiral Bill Owens and former Ambassador of Pakistan to the United States, Ali Jehangir Siddiqui, as a member of Afiniti's Advisory Board.
The senior and highly experienced individuals are now to provide counsel and expertise for Afiniti as it expands throughout the global markets.
Mr. Siddiqui will be working alongside Former UK Prime Minister David Cameron on the advisory board of Afiniti.
Before establishing the renowned JS Bank in Pakistan in 2006, Mr. Ali Siddiqui played a vital role for several Pakistan-based companies. He has also carried out executive roles and held the board dictatorships for a number of leading organizations.
He is the CEO of Mahvash & Jehangir Siddiqui Foundation and has remained the Special Assistant to the Prime Minister of Pakistan in 2017, before becoming Ambassador of Pakistan to the United States in 2018.
Welcoming Mr. Cameron, Admiral Owens and Mr. Siddiqui to Afiniti as the new council, Mr. Zia Chishti Chairman and CEO Afiniti stated:
We are delighted to welcome David, Bill, and Ali to Afiniti. Our Advisory Board has a diverse array of senior business and political leaders who provide invaluable guidance to the company as we expand around the world.

At Afiniti, we're proud to be delivering real benefits through our AI technology today, helping to drive significant value to clients across industries.

Afiniti is about raising the productivity of companies. David's deep personal commitment to this issue makes him perfectly-placed to lead our Advisory Board, and all three new Board members will support Afiniti in our next stage of growth.
Ali Jehangir Siddiqui will also be working alongside Lord John Browne – CEO BP, Andrew Knight – Chairman Times Newspapers, Andrea Wong-Director Liberty Media International amongst others on the board of Afiniti.
Pakistan is proud of Mr. Siddiqui and his achievements not only within the nation but also across the border. He is an example of a role model who many aspire to be and has set countless examples of accomplishments making the country proud.
A very hearty congratulations to Mr. Ali Jehangir Siddiqui and his family.