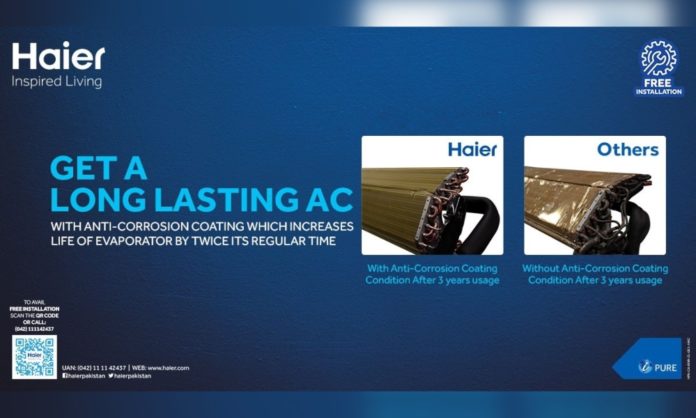 Haier continues to make the lives of its customers simpler by introducing the best, environmental-friendly and innovative products. Haier has already been providing its customers the ease to clean their air conditioners using self-clean technology with the touch of a single button.
Haier has also now introduced a special anti-corrosion coating in its air conditioners. With the introduction of this technology, the evaporator coil and U Bends are coated with anti-corrosion treatment which helps in fighting rust problems and increases the life of the evaporator by twice its regular life period.
Haier has always worked with a mission to keep its customers satisfied and which is why it continues to lead the appliances market. We take pride in the quality of our products, as well as our service and after-sales service so you can purchase your favorite Haier product with the peace of mind that we have you covered.
Haier is also offering free installation and service of all Haier Air Conditioners, saving you from the hassle of spending an extra amount on the installation and ensuring that all air conditioners that are bought are installed by professionals. So why wait on this amazing offer?
Live Smart & Buy Smart with Haier today!
Don't forget to follow us on our social media platforms for more upcoming discounts and promotions!
Facebook: https://www.facebook.com/HaierPakistan
Instagram: https://www.instagram.com/haierpakistanofficial/
Twitter: https://twitter.com/HaierPakistan