The ongoing pandemic, CoronaVirus has been spreading rapidly throughout the world. In order to take preventative measures, various workplaces have taken different steps to limit the spreading of the virus within their premises. A recent post went viral on social media after Saudi company, state-owned oil-giant Aramco had a migrant worker serving as a human hand sanitizer.
The worker who appears to be of South Asian origin, featured him wearing a big white box that dispenses an antiseptic hand sanitizer.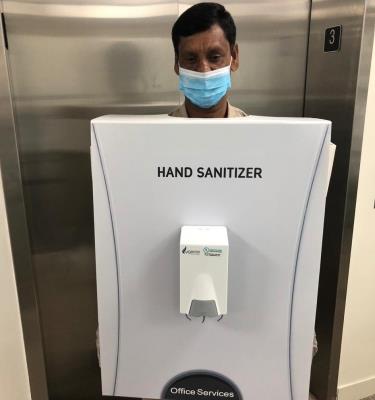 The pictures were shared all over the internet where one can see images of different employees using the dispenser to sanitize their hands.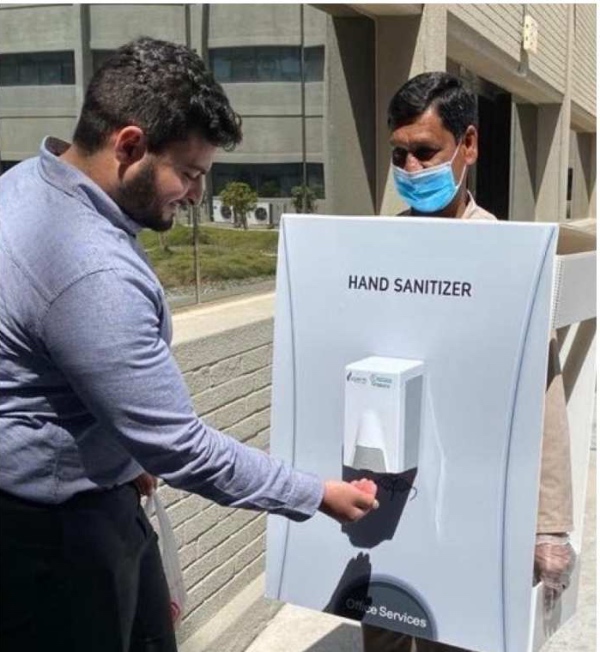 The scene was met with heavy criticism from people all over, not only was it shocking but extremely disrespectful to the migrant worker. The pictures sparked a debate about the fate of such workers in Saudi Arabia
The human hand sanitizer practice by Aramco was condemned by renowned journalists, human rights activists and the general public too!
The most disturbing and shocking inhumane photo I have seen since the hooded man in the American Abu Ghraib prison in then occupied Iraq. Racism, abuse, humiliation of migrant workers are well-documented not just in Saudi Arabia but Qatar, UAE and Kuwait. pic.twitter.com/tPWXGrkpdY

— Ahmed Maher (@AhmedMaherBBC) March 11, 2020
#Saudi @ARAMCO's idea of a hand sanitizer stand: a foreign worker from a poor country.

The company apologized after a wave of criticism for its utter #racism & disregard of human dignity.

Mistreatment of forein labor in some Gulf countries is outrageously rampant. pic.twitter.com/FpTohYmQEC

— Dr. Abbas Kadhim (@DrAbbasKadhim) March 10, 2020
Bless the uncle who had to endure this obscene level of humiliation.

A South Asian worker in Saudi Arabia was forced to walk round the Aramco offices wearing a large hand sanitizer.

(H/t @HishamFageeh) pic.twitter.com/T7KlBPwXAv

— Areeb Ullah (@are_eb) March 10, 2020
People were furious to see such unethical practices been followed by the oil giant. Some went on to Twitter and called it a 'Shocking contempt for human dignity'.
Shocking contempt for human dignity in #SaudiArabia's oil company @Saudi_Aramco.

Picture shows an Indian employee dressed up as a mobile hand sanitizer for the convenience of #ARAMCO's American executives. https://t.co/RuCFNKR5NY

— Tarek Fatah (@TarekFatah) March 11, 2020
I am DISGUSTED. Outraged. #SaudiAramco my brain cannot begin to grasp this situation… https://t.co/VqlidOe83w

— Lety (@therealslimlety) March 12, 2020
One Twitterati called out the practice as a form of 'slavery'
Using a human as hand sanitizer dispenser isn't ethical neither humane. This is a form of slavery. Aramco should fix this and apologize #SaudiArabia #SaudiAramco pic.twitter.com/6irsxnsUmO

— Lilly (@LillyArabia) March 10, 2020
Aramco soon issued a public apology after they received major backlash on social media.
إشارة إلى الصور المتداولة في وسائل التواصل الاجتماعي لأحد الزملاء مرتدياً ما يشبه عبوة للتعقيم في أحد مرافقها، تود #أرامكو السعودية أن تعرب عن استيائها الشديد من هذا التصرف المسيء الذي أريد به التأكيد على أهمية التعقيم، دون أخذ موافقة من الجهة المعنية بالشركة.

— أرامكو (@Saudi_Aramco) March 10, 2020
The apology translated by ABC News reads as follows,
"Saudi Aramco would like to express its extreme dismay at this offensive behavior that was aimed at emphasizing the importance of sterilization, this was taken without the approval of the concerned company."
However, some people pointed out that the company did not send out a direct apology to the man serving as a hand sanitizer.
#Coronavirus
"Email to #Brunswick, the PR firm that represents Saudi Aramco, went unanswered…only after the pictures went viral did #SaudiAramco say on Twitter that it was 'strongly dissatisfied'…The post didn't include an apology to the man himself."https://t.co/IkGuDIKKHN

— Alphonso Van Marsh (@AlphonsoVM) March 12, 2020
I'm sure he didn't do this on his own and with his own will! The people responsible for this Inhumane act should be held accountable! You should know better!

— Nadine Welson Njeim (@nadinewnjeim) March 10, 2020
Stay tuned to Brandsynario for latest news and updates