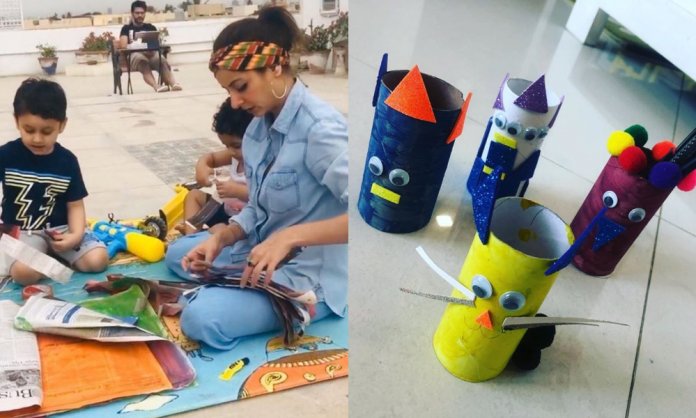 As the coronavirus pandemic has forced everyone to stay their homes, more and more people are looking forward to making their time useful by doing something productive. Especially parents of young kids, who are super concerned as the schools have temporarily shut down.
Speaking of which, a lot of parents have their focus diverted to their children in order to develop their learning skills. Many Pakistani celebrities have been sharing videos of all the fun activities they've been doing to keep their kids engaged. Ahsan Khan reading Quran stories with his kids, Uroosa Bilal Qureshi teaching her little boy a few house chores and Sarwat Gillani bringing out her killer arts & crafts skills!
Sarwat Gilani has been really consistent with her activities with children and making most of the quarantine time. Moreover, she's also been sharing all the fun activities on her official Instagram account and also giving tutorials! Check it out!
Here are a few of Sarwat Gilani's fun arts & craft sessions with her young ones. 
1. One of her first activities was making a colorful paper chain
2.  Using vegetables to paint
3. 
4. Making a hot air balloon with crepe paper cuttings
5. Hand-painted gift wrap!
6. Drawings with newspaper cutouts
7. Leaf art 
8. Canvas painting using tape
9. Paper hand cut-outs! So cute!
10. Decorative planters
The artwork is super adorable! And we want to appreciate Sarwat Gillani for sharing these informative and fun videos. Moreover, did you guys notice how calm she is with her kids? Parenting done right!
Stay tuned to Brandsynario for the latest news and updates!