With numerous Pakistani dramas under her belt, Sarwat Gilani has been busy being her flawless self in her career as well as personal life. Her public appearances at least make it seem that way. She has done her fair share of teary-eyed roles and manipulative neighbor roles, but she became a Churail recently and owned the screen.
Churail star has also been the focus of the moral police from time to time. One of those times that come to mind is when she went on a trip outside Pakistan with her husband and kissed him. The picture was posted on Instagram, and the haters didn't really like it. So they called her out on that.
Once again, she has given the criticizers some food to munch on. It is a sizzling photoshoot by Hello Magazine with her husband, and we don't know about anyone else, but we, surely, loved it.
Have a look:
The 50's Hollywood style pose of Fahad Mirza and Sarwat Gilani.
Smoking is obviously not endorsed, and we hope that Fahad being a doctor himself, was also just posing.
Hold the door open for the woman as she claims the driver seat. The cuteness overloads the picture that one can say has quite a profound message attached.
This pose is just adorable. The two complement each other entirely.
Reactions of the moral police
Moral police couldn't restrain and let itself loose on Fahad Mirza and Sarwat Gilani's posts.
They were preached to be 'more decent' and that they were adopting European culture.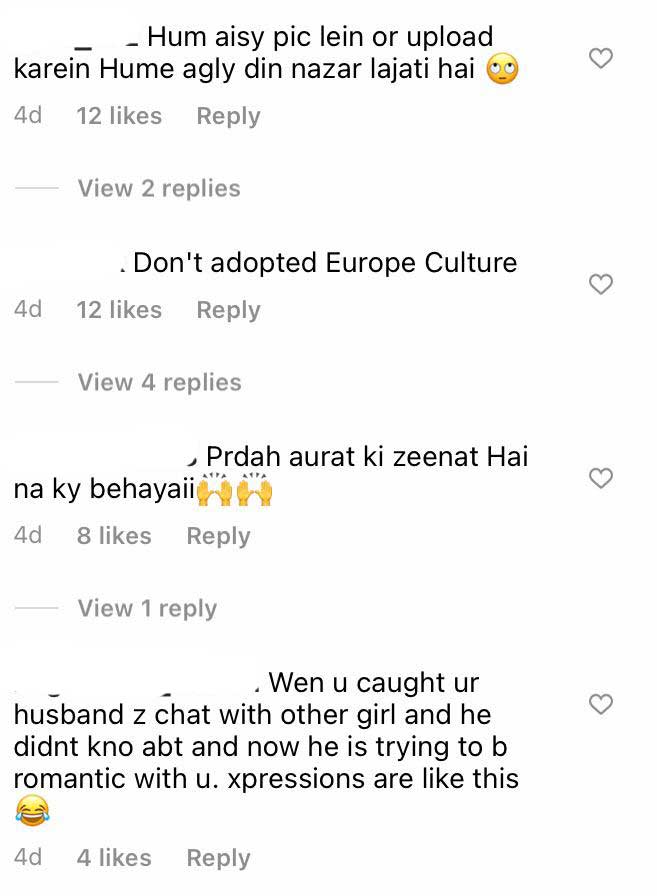 In fact, some even questioned their religious beliefs and national ties.

Another brigade termed it as a way to gain more popularity. Well, dears, they are already very popular; they don't need other ways to do that.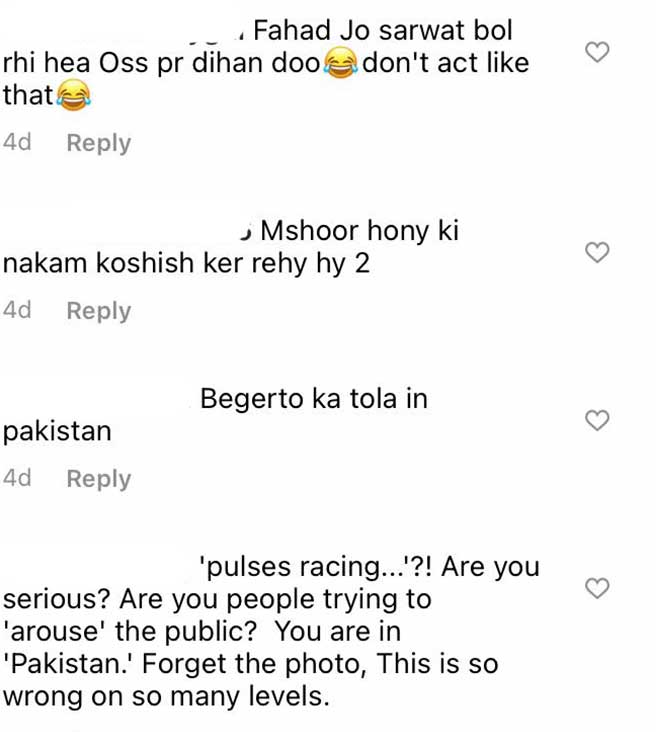 But the very accusatory comment was the one where it blamed the couple for arousing the public. It further added that 'forget the photo, this is wrong on so many levels.'
Are you really serious? The two are legally married, they have the right to pose with each other however they want. And well, let's not forget, most of these moral police members thrive on watching even more intimate scenes from all those Hollywood and Netflix movies. Time and again, we have seen movies like 365 Days be trending at the top 10 in Pakistan.
Stay tuned to Brandsynario for the latest news and updates!