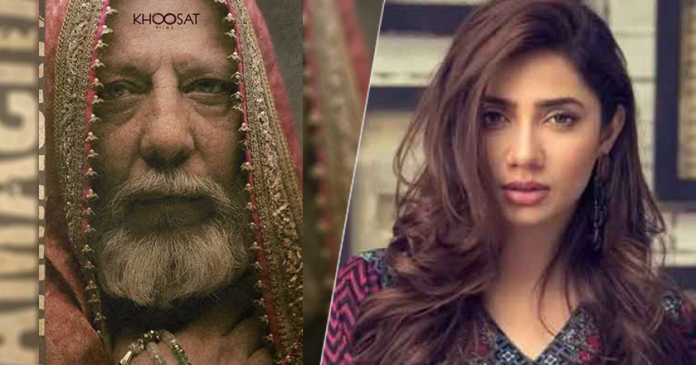 Just after three days of writing an open letter to the prime minister over hurdles being created in the release of his upcoming film "Zindagi Tamasha", filmmaker Sarmad Khoosat has disclosed that he is getting endangering phone calls and messages.
Just a few days ago, he penned down a letter to all the greater authorities of Pakistan to assist him to release his film.
This time he has dealt with Pakistani nation, seeking guidance from them that whether he should drop the idea of releasing his movie or not.
The actor and director tweeted another open letter on Sunday expressing this time to "Pakistan and Pakistanis."
Getting dozens of threatening phone calls and msgs. Should I withdraw Zindagi Tamasha? pic.twitter.com/OJB396B1xq

— Sarmad Khoosat (@KhoosatSarmad) January 19, 2020
Khoosat also shared a screenshot of the threat he received on social media while concealing the name of the culprit.
Actor and directed Khoosat have stated that he has invested two years and all his savings to make Zindagi Tamasha, The movie has also been passed by all three censor boards but still facing obstacles for some seemingly objectionable content.
Many celebrities tweeted in the support of Khoosat, including Mahira Khan, Humayun Saeed and Mira Sethi amongst others.
Actress Meera Sethi stated that this is a deeply disturbing issue 
The official censor board has cleared this film.

The unofficial censor board – the one that wields street power – is threatening Sarmad Khoosat and his team.

Deeply disturbing and problematic. https://t.co/m6hac9qKOC

— Mira Sethi (@sethimirajee) January 19, 2020
On the other hand, Humayun Saeed quoted that the government must take action against the ongoing scenario
The government must address this at the earliest. Filmmaking in Pakistan is already a tough challenge; those who dare to venture into it need to be encouraged and appreciated https://t.co/H2ZP1Wjd8H

— Humayun Saeed (@iamhumayunsaeed) January 18, 2020
Starlet Mahira Khan also rooted for Khoosat in a heartfelt tweet
Time and again we are made to realise our power and our influence. A film ( that people haven't seen) can make some this scared.
Mushkil ko bata ke tera Allah kitna bara hai @KhoosatSarmad https://t.co/AGVeTl8Dfh

— Mahira Khan (@TheMahiraKhan) January 19, 2020
Directed and co-produced by Sarmad, along with his sister, Kanwal Khoosat and penned by NCA graduate Nirmal Bano, Zindagi Tamasha is a bilingual movie, largely shot in Lahore.
The movie's cast includes Arif Hassan, Samiya Mumtaz, Eman Suleman and Ali Qureshi in central roles.