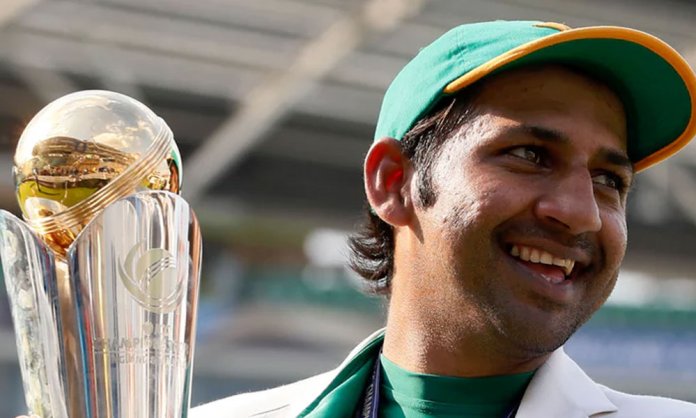 Pakistan, truly an unpredictable team ! Who would have thought that the team which ranked 8th at the star of the tournament would end victorious bringing  the ICC Champions Trophy home to the nation!
Fans found themselves at the skipper's house. They cheered the captain, saluted his efforts, and sang the national anthem to appreciate and applaud his efforts in bringing his team to and through the final.
Just see the massive crowd singing National Anthem at Sarfraz's residence!
The nation just couldn't help loving their captain!
#sarFaraz 😍😍😍
GOD BLESD UH WELLDONE💋💋💋💋 pic.twitter.com/WX6l5dIg4x

— Dua D'souza (@DuaDsouza) June 19, 2017
Sarfaraz truly deserved all the praise!
Yeaahhh..🙌 Our Tiger #Sarfaraz ❤ https://t.co/UHHnQDhlQr

— Saba Khan (@dreamer_2407) June 18, 2017
His fans danced in the streets, while others drove around waving the nation's flag with pride.
#Huq RT sabena_siddiqi: #PAKvIND
Pakistanis celebrate victory outside the Oval
#CT17 pic.twitter.com/OYplecSXu3

— Omar A Kareem (@KareemDeadly) June 19, 2017
The Audience at The Oval successfully shared the victory with the Brits! Even a policeman couldn't hold himself back!
#Huq RT sabena_siddiqi: The British joined Pakistanis cheering for victory#PAKvIND
pic.twitter.com/Fi4Z1kuUcu

— Aslam Khatri (@KhatriOnline) June 19, 2017
#Huq RT sabena_siddiqi: British policeman joins the celebrating crowd #PAKvIND

— Aslam Khatri (@KhatriOnline) June 19, 2017
Celebrations have only started! A lot more is to come! Congratulations Pakistan!
Stay tuned to Brandsynario for more news and updates.