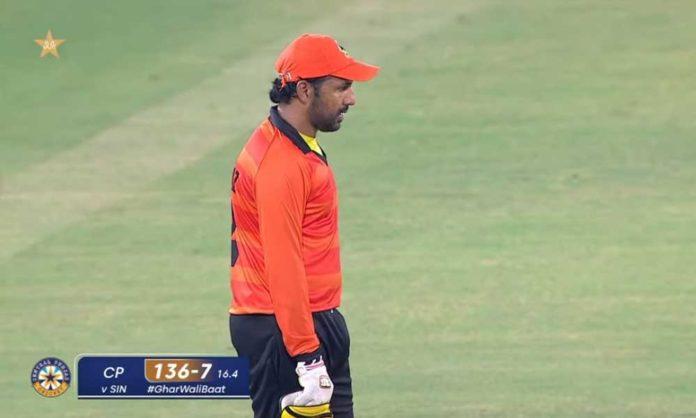 "You see the looks? Very serious! That's not the Sarfaraz we know. Say something, speak up, it's alright."
These words echoed in the commentary box, at Multan stadium during Sindh vs Central Punjab match at National T20 Cup 2022. During the 16th over, Sarfaraz Ahmed took a good catch off Abrar Ahmed (who got called up for the England series), and unlike the Sarfaraz we know, he just throws the ball to the other fielder silently, without any emotion or reaction.
▶️ Average of 48 with the bat in National T20 Cup 2022 – The best by a WK batter in the event 🔥

▶️ Strike rate of 142 – The best by a WK batter in National T20 Cup 2022 💥

Sarfaraz Ahmed is having a fabulous tournament 👌#SarfarazAhmed #NationalT20Cup #Pakistan #Cricket pic.twitter.com/vh6WqVSG12

— CricStats (@_CricStats_) September 14, 2022
This is not the Sarfaraz the world knows. This was a painful sight for any Sarfaraz fan, as he is mostly smiling and is known for being very chirpy, and energetic on the field. Even commentators, couldn't bear to see that, as they continued,
"I have never seen Sarfaraz Ahmed so quiet, and I get it, he was really close to the close up." The other commentator added, "I don't like this Sarfaraz, trust me I like him speaking, chirping."
This reminded me of Shawn Michaels' infamous promo, from the February 13 1997 edition of WWE (WWF back then) weekly RAW. In that promo, Shawn Michaels famously said that he had "lost [his] smile" after having to vacate his WWF championship due to a career-threatening knee injury.
Sarfaraz has also lost his smile, after coming up short of a national call-up for the home series against England, and T20 World Cup 2022 in Australia. Pakistan's regular wicketkeeper, Mohammad Rizwan, is dealing with injuries and nobody else deserves to be his backup than the former captain.
Sarfaraz Ahmed fought hard throughout National T20 Cup to earn his ticket to Australia, as the commentator said "We all like that Sarfaraz, such a character. A true fighter, street fighter."
Our skipper @SarfarazA_54 had a good outing for Sindh today in National T20 against Southern Punjab

6️⃣2️⃣ runs
3️⃣7️⃣ balls
2️⃣ sixes
5️⃣ fours
1️⃣6️⃣7️⃣➕ strike-rate#WeTheGladiators #ShaanePakistan #PurpleForce

— Quetta Gladiators (@TeamQuetta) September 6, 2022
He was a deserving candidate to be called up for the series against England and get a ticket for T20 World Cup 2022, as a reserve wicket-keeper or even as a specialist middle-order batter. However, captain Babar Azam and Chief Selector Mohammad Wasim overlooked him in favour of young wicket-keeper Mohammad Haris.  
With his current form and strike rate, he could have easily made it, even as a specialist batter, considering Pakistan's shaky middle order, however, the management has opted for the same combination which failed in Asia Cup 2022. Shan Masood replaced Fakhar Zaman, who is injured and has failed miserably during Asia Cup. However, Fakhar has been kept as a reserve player for T20 World Cup with Mohammad Haris and Shahnawaz Dahani.
There was a lot of chatter going on in the media regarding the changes in the Pakistan squad for the T20 World Cup after Pakistan's crushing defeat in the Asia Cup 2022 final at the hands of Sri Lanka. Pakistan's middle order was criticized for being too shaky and unreliable, while top-order batters were criticized for their strike rates.
– When will we come out from friendship, liking & disliking culture.
Allah always helps the honest…

— Shoaib Malik 🇵🇰 (@realshoaibmalik) September 11, 2022
Many former players bashed current management over team selection, while journalists started running campaigns for the recall of their favorite players. But unlike all of them, Sarfaraz kept his head straight and kept performing in National T20 amid all the chaos regarding team selections. He did not give any negative comments, and always remained positive, but this decision to drop him shook him. He did not look motivated at all, either while keeping or batting.
ایک پلیئر کو آپ تین سال تک لے کر گھومتے رہے، چانس نہیں بن سکا ،اب جب رضوان کی انجری کی وجہ سے چانس بنا تو اس کو ڈراپ کردیا، وہ تین سال چپ رہا ڈسپلن برقرار رکھا، اب بھی برقرار رکھے گا۔ سرفراز کے علاؤہ یہاں سب کو دوسرا موقع ملا سرفراز کو یہ سہولت دستیاب نہیں

Stay strong captain pic.twitter.com/n28uJxkXqo

— ٰImran Siddique (@imransiddique89) September 15, 2022
This is not at all the way to treat a former captain who made the team No. 1 in the T20 rankings. Under his captaincy, Pakistan won 11 consecutive T20 series. He brought glory with the Champions Trophy by defeating India for the first time in an ICC event, that too in the final. If Asif, Iftikhar, and Khushdil can get chances after failing again and again, why not Sarfaraz be given the chance, after performing well in PSL as well as other domestic tournaments.