Amidst the worsening conditions in Palestine, people all over the world are raising their voices. This includes celebrities, influencers, and people from almost all walks of life. Large-scale protests have started worldwide from the people who stand in solidarity with Palestine and against Israel. Among those Pakistani's including celebrities, are also taking the roads to raise their voices.
People are hoping for the Muslim countries to unite on the issue and come up with a solution. However, there is no progress seen for calling out Israel on its wrongdoings. More so, some countries are standing in favor of Israel openly to maintain the relations. And from the list of such countries, Emirates is one of them.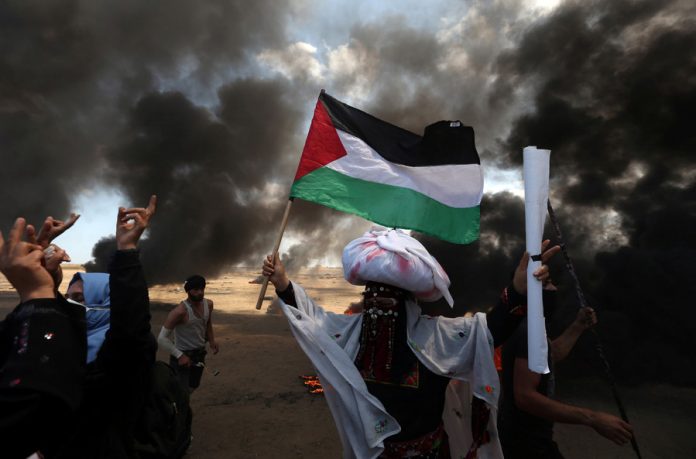 Dubai's Stands With Israel 
Recently, a billboard was seen on the road of Dubai, which was promoting tourism in Israel. The billboard read "Plan Your Trip Now," encouraging people to visit Israel. As shallow as it sounds, it seems like Emirates has lost its dignity and honor. As Dubai seems to promote Israel, it stands for Palestine again just for the sake of relations and politics.
Sanam Saeed's Post On Instagram 
Sanam Saeed took to Instagram and called out Dubai for its stance. She wrote,
"If this is true, shame on you, Dubai, Humanity before politics". And we couldn't agree more with her.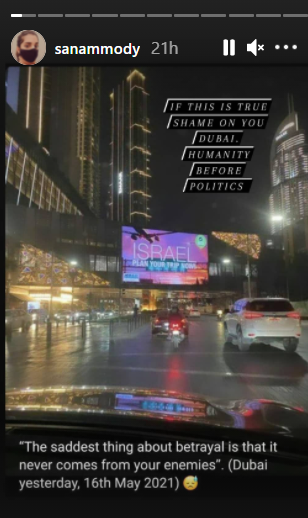 Moreover, she wrote a very famous quote that seems relevant to the above situation. She stated,
"The saddest thing about betrayal is that it never comes from your enemies."
Muslim Countries Must Unite 
As people from all over the world stand with Palestine, we hope that this leads to a productive outcome that brings prosperity for Palestine. And the Muslim countries must unite for the sake of humanity and Muslims. We hope they take a collective stand and do something fruitful to bring them out of this agony and misery.
Stay tuned to Brandsynario for the latest news and updates.