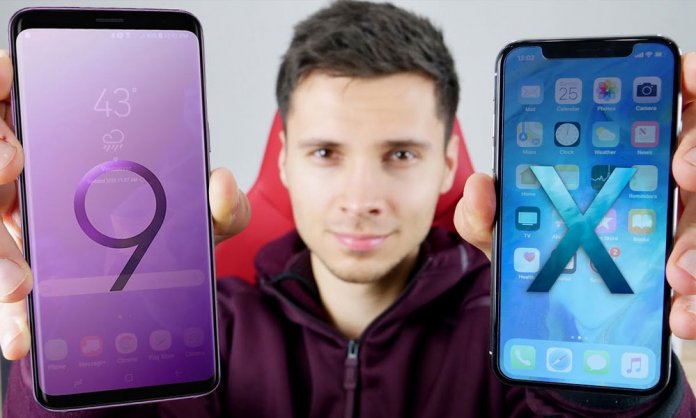 The latest unveilings from leading Android smartphone manufacturers Samsung and Sony have the mobile industry buzzing as they compare specs, features, and overall design.
Twice a year, smartphone and tech fans sit on the edge of their seats, awaiting the arrival of either the new iPhone or Galaxy. As iOS fans eagerly await September's reveal, Android lovers look to the Mobile World Congress, held this year in Barcelona from February 26 to March 1.
But now, it's not just Apple versus Samsung. Sony's latest Xperia XZ2 is a smartphone worthy enough to join the feud.
If size matters, Samsung Galaxy S9+ wins out, with a 6.2″ Super AMOLED capacitive touchscreen. The S9, iPhone X and Xperia XZ2 are similar, boasting 5.8″ (1440 x 2960 pixels), 5.8″ (1125 x 2436 pixels) and 5.7″ (1080 x 2160 pixels), respectively.
Still, Sony is lacking in terms of display type as its competitors already use AMOLED. As for performance, Apple's A11 Bionic leads the pack, despite the fact that both Android phones now come with a powerful Snapdragon 845 chipset.
The design consensus is leaning towards curvy with more screen and less bezel, beginning with Samsung's display featuring rounded edges. Since then, Apple has followed suit by leaving an unfavorable notch while Sony simply opted to go for more phone.
Of the three, the Xperia XZ2 body is larger and heavier, although Sony has revamped its image by giving the flagship a curved back that's supposed to sit more comfortably in the hand.
All three are equally waterproof, with strong frames and glass. But for those who like color, the iPhone X has fewer choices than before, offering gray or shades of gray, while the Android devices have four colors each, including blue, green, pink and purple.
When it comes to cameras, Sony has captured many video enthusiasts' hearts with their latest innovations, introducing 4K HDR movie-recording to smartphones. Using the same technology as broadcasters and providing 960fps video at a resolution of 1080p, the Xperia XZ2 videos (especially slo-mo) are at the top of the league.
The front camera leaves much to be desired, however, at 5MP compared to the iPhone (7MP) and Samsung (8MP). Samsung's "reimagined camera" is on par with Sony when it comes to slow-motion.
In terms of additional features, the two original rivals have more in the way of biometrics — Sony still relies on the fingerprint scanner, even if they dropped the 3.5mm jack port.
Meanwhile, Android fans are debating the rest of the specs as iOS users wait for Apple's response, which should first come in the form of a new software update at the WWDC 2018 (most likely in June) and then a new iPhone, rumored to have a larger screen.