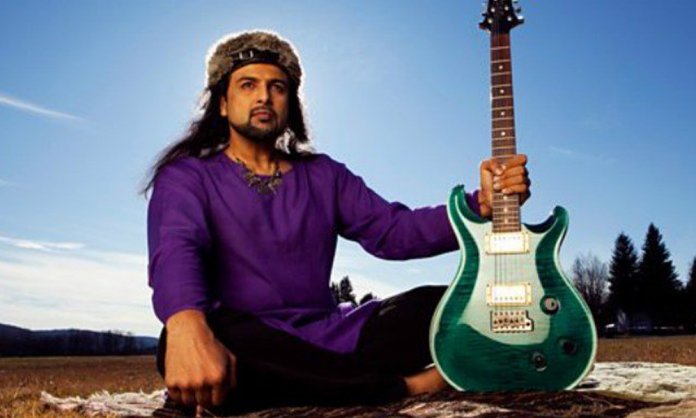 Salman Ahmad, frontman of Pakistani rock band, Junoon has taken the Internet by storm after having a Twitter debate over the recently released song, 'Sayonnee'.
Rahat Fateh Ali Khan sang the reprise which received immense backlash as people could not believe how different it sounded from the original which was sung by the rock star, Ali Azmat.
The music for the track was directed and composed by Salman Ahmad and he reached out to fans and spoke about the criticism the singer, Rahat has been facing since the release. Ahmad stood up for RFAK and hit back to critics!
Ahmad talked about the original track which was also faced heavy criticism!
The original Sayonee & Khudi plus the whole album was trashed by critics & then 6 months later, it became"Sufi-Rock" https://t.co/nFNEuFF3oo https://t.co/8B5Ncb6EQ1

— salman ahmad (@sufisal) August 21, 2017
Salman continued to defend his decision for roping in RFAK!
Follow ur heart: @RFAK was my tribute & thanks to Nusrat sb. @alinoor came to me as a 17 yr old in 1997 & told me about his passion 4 music. https://t.co/DKnfUJfXxB

— salman ahmad (@sufisal) August 21, 2017
Sayonnee received backlash and Ahmad asked the reason for such negativity!
Social media allows an artist to understand his or her audience. I'm curious why so much negativity for one song? https://t.co/m7DUSQhrNu

— salman ahmad (@sufisal) August 23, 2017
The Junooni mentioned the difficulties faced by Pakistani artists!
In a country where artists are an endangered species, no open air concerts,no international cricket,Pak music RULES! https://t.co/UHPYK37eQf https://t.co/BWT2SHicHc

— salman ahmad (@sufisal) August 21, 2017
However, this Twitterati did not agree with Salman and responded: 
There are plenty of artists!! In every college of Lahore, you have high quality artists, but they don't have the major platform to perform.

— Bilal Wajid Hasan (@BilalWajid_) August 21, 2017
Salman Ahmad believes the Government is to blame for the situation regarding artists!
Its the Govt's responsibility to protect the life & property of its citizens.including artists.Major platforms have to b provided by Govt. https://t.co/rD9jZOxEhk

— salman ahmad (@sufisal) August 21, 2017
What do you think about Salman Ahmad's stance on Sayonne? Let us know in the comments below.
Stay tuned to Brandsynario for latest news and updates.