[Update]: Sajal Aly shared cryptic stories on her Instagram which led to an uproar on social media. She deleted it in a few hours. You can have a look at the deleted story by scrolling down a bit. But what was the uproar about? Since the deleted story was about calling out homewreckers, one was forced to assume that there could be trouble in paradise. And honestly, that scared us because we absolutely love this couple.
But after the whole fiasco, and people making assumptions, it seems Sajal is trying to recover from it. She shared Ahad's Instagram post on her story. The post is from September 2020 and she added an 'A' and a heart to it.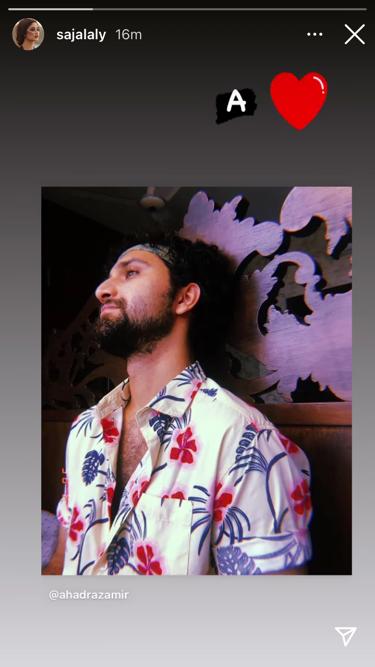 ---
---
[March 25th, 2021]: Sajal Aly is a talented actress who has been the life of any project, whether she was playing a timid girl or an outgoing person. Not only is she amazing in the dramas, but she is also gorgeous in any modeling shoot she does. Seeing how adorable she is, it is no surprise that Aha's fans did not hate her when the two announced they'd be getting married. Instead, it became one of the most loved couples of the Pakistani entertainment industry.
But something weird just happened. 
Sajal, who usually doesn't post such stories, has taken to Instagram sharing quotes that have implied meanings.
The first quote is by Mandy Hale. It reads: "Sometimes the best thing you can do is keep your mouth shut and keep your eyes open. The truth always comes out in the end."
Did someone corner her and put blames on her, because of which she decided not to react but become more vigilant?
But then, the following story that she posted fourteen hours later after this cryptic message was, "Hoes are worthless homewreckers who are searching for attention in other people's relationships! Get a life!"
So like, hold up!
What happened? Did someone try to create issues between our adorable endgame Ahad Sajal? Is someone trying to create a misunderstanding between the two?
Hopefully, everything is good, and it won't lead to something we wouldn't want but let's not forget that our industry has a track record of homewrecking allegations and consequent divorces.
That said, we would also like to see the two in some projects again. It has been quite some time since we did.
Sajal Aly and Ahad both have appeared in quite a few projects, and while they were cute, we would like to see them with other actors now.
Stay tuned to Brandsynario for the latest news and updates!