Ever since Shahroz Sabzwari and Sadaf Kanwal tied the knot, social media users have shown no mercy in ridiculing the two. It started when Shahroz and Syra decided to end their 8-year relationship and Shahroz got married to model Sadaf Kanwal.
Indeed, it proved to be shocking and left many people enraged. Once the two had gotten married, their marriage has been nothing but a significant controversy. People started passing crude remarks on the two and called Shahroz a cheater and Sadaf a home-wrecker.
Sadaf Kanwal Gets Trolled For Wishing Shahroz On His Birthday!
The brutal trolling started all over again when the supermodel decided to wish her husband Shahroz, on his 35th birthday. Here's how she wished him:
Souls recognise each other by vibes, not by appearances… Happy birthday my darling soul mate. Love you
Here's her post:
https://www.instagram.com/p/CESKi5vAU9L/
Shahroz was ecstatic and decide to share a picture on his Instagram account as well and here's what he shared
Some even pointed out how she has got the spelling of his name all wrong.
Here is what people had to say

Yeah, some people were really brutal with their choice of words.
The hate is unbelievable

Although it has been a few months, it seems like people can't let go of what happened.
One of the trolls decided to bring in Mohsin Abbas Haider's scenario

People even started commenting on Sadaf's appearance and her brows!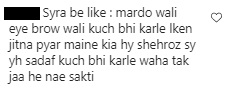 One of them even announced how everyone should start trolling them

The hate was a bit too much.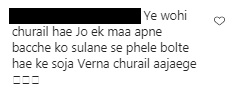 Earlier, when Shahroz and Sadaf were interviewed after their marriage, they said that all bullying and hate does not impact them, Here's what Sadaf Kanwal had to say when she was asked, "how did you handle negative criticism and trolling on your wedding?" Here's what she had to say,
We actually laugh at all the comments. it had no impact on us. Does it look like I have been affected? I have a loving husband so these things do not affect me at all. I really don't care about the backlash that we received on our wedding since such incidents have also happened in the past with others.
Although the marriage has hurt the sentiments of many, the netizens showed no mercy as well. It was more like an act of revenge. In our society, people care less about the sentiments of others when it comes to being insensitive and judgmental. They simply don't care. People might feel that it is okay to pour their heart out but fail to look past the negative effects it leaves on a person.
What are your thoughts on this brutal trolling? Do you think it should stop? Let us in know in the comments below.
Stay tuned to Brandsyanrio for the latest news and updates.