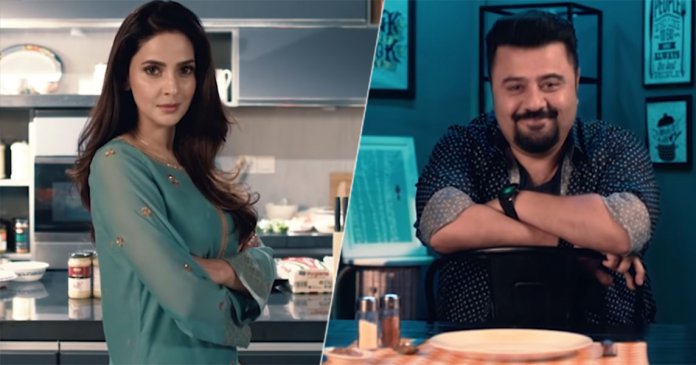 Two of the entertainment industry's most beloved celebrities recently had a face-off that will definitely be one to remember!
Diva Saba Qamar went head-to-head with the funniest guy in town Ahmed Ali Butt at one of the most innovative challenges brought forward by Shan Foods!
The celebs came into a direct confrontation with each other at the Shan Foods Kitchen and took the ultimate cook-off challenge.
Both the contestants had to prepare a special dish in a limited time period and rate each other's dishes and see which celeb is a better cook.
The starlet Saba Qamar was asked to prepare Sindhi Biryani whereas the King-of-laughter prepared a delicious plate of Punjabi Yakhni Pulao.
But, before they put on their chef hats, the two had an interesting Q&A session. Saba shared that she is very confident in her cooking whereas Ahmed considers himself no less than the legendary Gordon Ramsey! (but the wife thinks otherwise)
The funniest answers that had us laughing was when each was asked to pick one ingredient that portrayed a resemblance to their competitor in the show. Ahmed likened Saba to a 'Bhindi' (Okra)
Whereas Saba retorted that he reminds her of 'Gobi' (cabbage).
When they were asked what would the other person be if not in the entertainment industry, Saba was quick to share that Ahmed would be a chef for sure. Whereas Ahmed Ali Butt shared that if Saba was neither a model, actress, or a singer, she'd be a 'bhoj' (burden).
The two then took the battle to the kitchen and started off. There was a bit of leg-pulling and banter, each claiming that they would win the challenge and that the other person is would just have to swallow humble pie and admit it.
The two kept at it, until, a mystery box arrived. Wondering what twist is inside the box, Saba reaches out to grab it only to find that they now have to complete each other's recipes and that too in just 15 minutes!
This mystery box challenge left both of them absolutely stunned!
To find out who won the challenge, watch the episode below!
https://youtu.be/TDwDXbVLUig