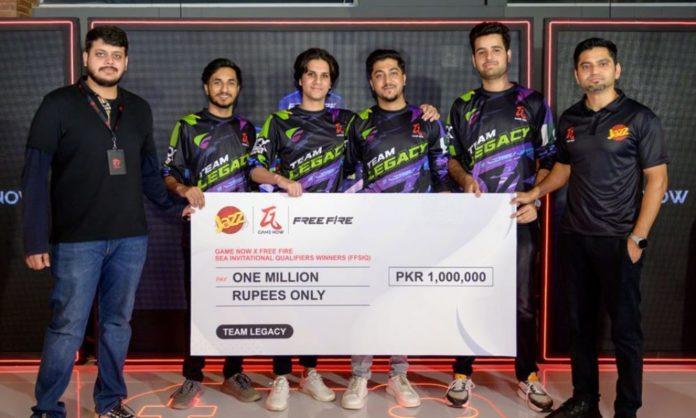 In Islamabad on 4th May 2023, to commemorate RZX x Legacy's victory and their entry into the FreeFire SEA Invitational (FFSI) 2023, Game Now, Jazz's online eSports platform, and FreeFire, a well-known multiplayer battle royale mobile game by Garena, presented PKR 1 million to them.
RZX x Legacy won the month-long qualifying rounds in Pakistan from among 1,152 local teams and qualified as one of the 18 teams to compete globally in the FFSI. Game Now and FreeFire worked together to provide them with a pool prize money of PKR 1 million.
The team will depart for Thailand later this week. Thailand will host the forthcoming event from May 12 to May 28.
Speaking at the event, Kazim Mujtaba, Chief Commercial Officer at Jazz, said, "As a digital-first company, Jazz is committed to creating and bolstering avenues of digital growth in Pakistan. For Pakistan in 2023 alone, the revenue in the online gaming market is estimated to reach over $46 million, and by 2027 this value is predicted at nearly $73 million. These numbers indicate lucrative global opportunities for our youth and a tremendous potential for economic uplift, and Jazz is determined to help materialize this through Game Now."
Expressing similar zest, Falak Gondal, Partnerships Manager at FreeFire, said, "The global online gaming industry is expected to reach a value of over $32.5 billion by 2027. We are delighted to host this celebratory event with Jazz Game Now, to recognize the brilliant gaming talent of Pakistan and help pave the way for future gamers in the country. This partnership is our token of support for the local gaming ecosystem and is aimed at fostering a thriving gaming culture where local talent is showcased on the world stage." 
Syed Arsalan Qamar, Stream Head Gaming and eSports at Jazz, also highlighted the immense potential of this digital segment saying, "The popularity of eSports in Pakistan calls for rapid development in the sector and Jazz is excited to play a trailblazing role in unlocking this digital achievement." 
Jazz Game Now has been crucial in helping Pakistani internet gamers compete on a worldwide scale. Jazz is achieving Sustainable Development Goal (SDG) 9 – Industry, Innovation, and Infrastructure – through this effort.
Stay tuned to Brandsynario for more news and updates.