You can delete huge files such as movies, TV series, and music albums, but you may not be ready to do so. There are also different cloud choices to supplement your existing storage, but this entails moving information around and may incur additional costs. You could also simply get a new phone with extra storage, but this is an expensive alternative.
As a result, if none of these solutions appeal to you, you may and should use specific iOS capabilities to free up storage on your iPhone without having to remove anything or pay any money.
Optimize your Iphone
It's not always easy to just erase what's on your camera roll, so if you want to save your cherished memories, or even just your meme screenshots, but still free up device capacity, the simplest method to do so is to optimize the photographs and videos currently on your device. By default, any photo or video you capture is saved in full quality on your smartphone. When you shoot images and movies at the best resolution available, they might take up a lot of space.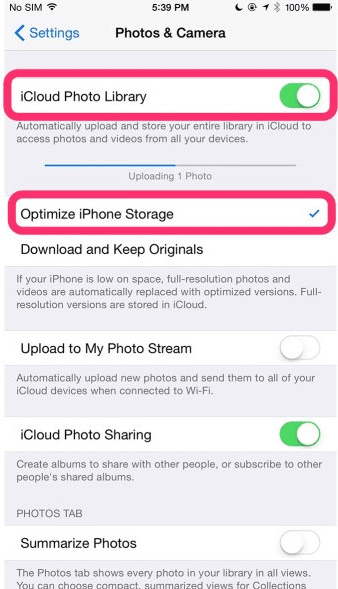 To optimize your photographs and videos, go to Settings > Photos and turn on Optimize iPhone Storage (this will only work if you have the iCloud Photos setting activated above it).
Upgrade your iCloud storage
If you don't have enough iCloud storage, upgrading your cloud is a better option than purchasing a new phone. In the United States, you may upgrade to 50GB for a dollar per month, or go bigger: 200GB for $3 per month or 2TB for $10 per month. Prices vary according to your country or area.
On your iPhone, navigate to Settings > (your name) > iCloud > Manage Account Storage > Buy More Storage.
Offload heavy apps
You do not utilize every app that is installed on your iPhone. Many of them, such as applications for your favorite airlines, third-party cameras, and music production, simply sit there. Even if you only use them sometimes, you don't require regular, everyday access to most applications, which is why you should consider offloading apps if you severely need capacity.
Check which applications are using the most capacity by going to Settings > General > iPhone Storage. Be aware that some built-in applications, like as Photos and Messages, cannot be uninstalled.
If you require temporary storage for a software download, simply go through the list and uninstall as many apps as you can. The amount offloaded for each app will vary, but the figure should appear next to App Size. Remove the number next to Documents & Data, as it will remain on your device. The only way to get rid of it is to uninstall the software.
Stay tuned to Brandsynario for the latest news and updates.