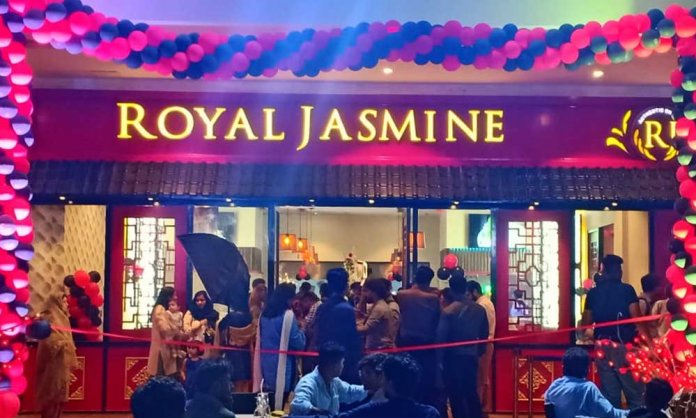 Royal Jasmine Cuisine, the latest entrant in the already booming East Asian food restaurant chains in Karachi, launched their first outlet at Food Street of LuckyOne Mall, Karachi.
The mega launch event was inaugurated by renowned actress, model, and fashion designer Nadia Hussain. Youtube entertainer Sajid Ali and model Sana Shakir were also present at the launch along with dozens of fans and food lovers.
The event held on the food street of the country's biggest mall marked the grand opening of Royal Jasmine Cuisine in Pakistan. Royal Jasmine Cuisine offers authentic Chinese, live Teppanyaki, Japanese, exotic Thai and a locally catered Samundari Khazana menu on its platter to seduce the taste buds of Karachiites.
Nadia Hussain, the inaugurator of Royal Jasmine Cuisine's outlet, said:
"It is quite enthralling to have authentic East Asian cuisine here in Karachi as we already have limited options to choose from. The ambience here in Royal Jasmine gave me and my family that royal sensation of eating in an East Asian restaurant complemented by the calm serene melodies playing in the background. The food is a must-try for any oriental food lover, especially Chinese food. My kids really enjoyed their time here."
Model Sana Shakir described her experience as heavenly, tantalizing and traditionally delightful with just the right amount of spices and sauces.
Youtube entertainer Sajid Ali who was also present at the launch expressed himself in the following words:
"I was amazed at the kind of ambient royal environment here. The staff service gave me a sensational feeling of exquisite eating at an Asian restaurant and the superior food quality reinforced that pleasant experience. I will definitely be visiting Royal Jasmine again. Foodies out there: this is your next stop for quality Oriental cuisine!"