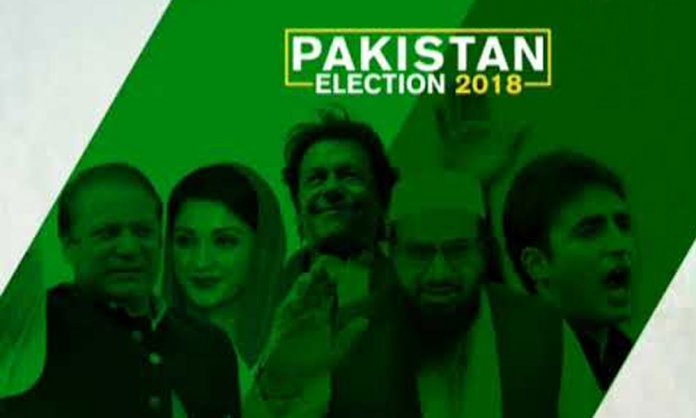 As the crowd swells with anticipation for their leader Shahbaz Sharif's arrival a DJ blares the anthem "Respect the vote", while supporters chant slogans and sway to the synth-driven dance track.
"We are enjoying it a lot," shouts Nauman Khan over the ear-splitting volume as he dances with friends at the rally in Punjab province, days ahead of Pakistan's national elections.
"We really like the songs of Nawaz Sharif," he screams, referring to Shahbaz's brother, the jailed former premier who continues to inspire his Pakistan Muslim League-Nawaz (PML-N) supporters from behind bars.
Pakistani political rallies have been transformed in recent years to festive blowouts, designed to entertain as much as inspiring supporters to vote.
The formula was first perfected by Asif Butt — better known by his stage persona DJ Butt — an erstwhile wedding DJ who first shot to fame when he played a rally for cricketer-turned-opposition leader Imran Khan in 2011.
It was there that the Lahore-based DJ began to perfect his craft, playing contemporary songs to warm up the crowd and musical interludes to the speeches on stage — injecting some dramatic theatre into long stretches of oratory.
"Imran Khan is a quick learner. He understood quickly where he had to pause for music and where he should continue speaking," says Butt.
The mashup was a hit, paving the way for continued collaboration between Butt and Khan's Pakistan Tehreek-e-Insaf (PTI) during the 2013 election season as the party reached out to younger and urbaner voters.
Political parties in Pakistan have used music as a way of spreading slogans and unifying supporters since the rise of pop music in the late 1980s, following the end of a military dictatorship.
But increasingly, and thanks to DJs like Butt, the rhythms of political rallies are filling a vital space in the deeply conservative Islamic country, providing the music-obsessed masses with a space to dance and cut loose.
– Play to the crowd –
Butt's career resembles that of an ambitious upstart in the country's chaotic political landscape.
He has played to crowds numbering tens of thousands, spent time in jail, and even manned the decks during a riot as police cracked down on a PTI protest with batons and tear gas.
Butt's blueprint for success is simple: play to the crowd.
In Punjab, he belts out tunes to suit the province's homegrown Bhangra dance style. In the rural northwest, he sticks to traditional folk tunes, while in urban areas the playlist is exclusively pop.
"DJ Butt and the PTI are the spiritual heads of this," says pop culture writer Ahmer Naqvi on music's shaping of Pakistani politics.
His success has since sparked a cottage industry, with political parties across the country hiring DJs on the campaign trail to attract voters.
At a PTI rally in Lahore, portions of the crowd resemble a mosh pit as men spin in circles, hands flailing in response to deafening political anthems.
"The younger generation likes music at Imran Khan's rallies because there is enthusiasm and fervour in it," says PTI supporter Muhammad Ali.
"And there's DJs there and the music is good."
But not all are fans.
Back in Punjab province's Pindi Gheb, Sharif supporter Abdul Ghaffar slams the "singing and dancing" witnessed at Imran Khan's rallies for involving both men and women.
"We don't have anything like dancing by women in our public meetings," he scoffs.
– 'Arrow to the heart' –
For those upset with the ways of the young, there are still the classic songs of old, with the lyrics largely centred on the personalities of party leaders.
"Arrow to the heart", an ode to the late former prime minister Benazir Bhutto and her Pakistan People's Party (PPP), remains the gold standard for political anthems in the eyes of many.
"That bassline could bring down empires. It's so powerful," says pop culture writer Naqvi of the song's timelessness.
"I don't know what is so special in this song but there is something that still attracts party leaders and workers alike," says Shabana Noshi, who provided vocals on the now iconic track.
Since being recorded almost 30 years ago, the song has outgrown its political mandate and is now a staple at weddings in southern Pakistan's Sindh province, where the PPP draws its support, Noshi says.
And for the faithful, a PPP rally is not complete without the song.
"No rally during the elections could be successful if the party song is not played on big speakers," says PPP supporter Naqash Saeed in Karachi.
"Whenever it is played my partisanship gets stronger."