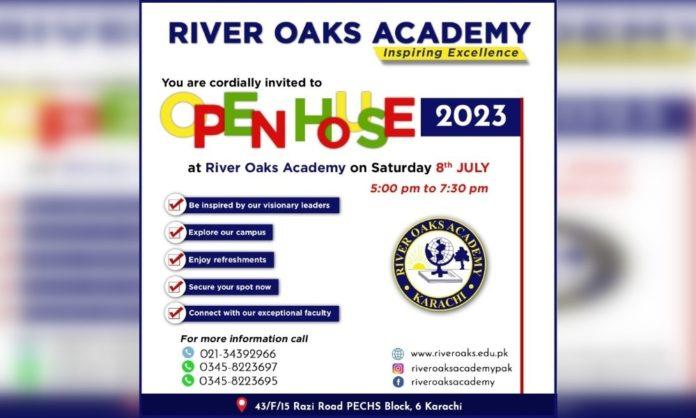 River Oaks Academy, an educational institution at the forefront of innovative and holistic learning, is thrilled to invite parents, students, and the community to experience its extraordinary Open House event on Saturday, 8th July 2023, in Karachi. Nestled amidst the lush greenery of 43/F/15 Razi Road, Block 6, PECHS, River Oaks Academy provides an exceptional educational environment where students can flourish academically, creatively, and athletically.
At River Oaks Academy, we believe that education is a transformative journey that extends beyond textbooks and classrooms. Inspired by the Waldorf philosophy and the enchanting beauty of nature, our Early Years program embraces forest-based learning, igniting a sense of wonder and fostering a deep connection with the natural world. Under the canopy of trees, our young learners engage in imaginative play, explore their creativity, and develop a lifelong love for learning.
As students progress to our middle school, they embark on an academic journey that combines rigorous intellectual pursuits with holistic growth. Our state-of-the-art facilities provide an ideal setting for students to delve into a wide range of subjects, from science and mathematics to humanities and arts. Our dedicated and experienced faculty members guide students on their path to knowledge, emphasizing critical thinking, collaboration, and character development.
In our esteemed O-level section, we have assembled a team of the best teachers in Karachi who are passionate about nurturing the potential of each student. Our multilingual curriculum ensures that students receive a comprehensive education that prepares them for a globalized world. With our expansive sports ground, we encourage physical fitness and offer a platform for students to showcase their athletic talents through inter-school tournaments and competitions.
Beyond academics, River Oaks Academy is committed to fostering a well-rounded education. We host Model United Nations conferences, debating competitions, and cultural events that inspire students to engage with the world around them, develop their communication skills, and become global citizens. Our fully air-conditioned classrooms provide a comfortable and conducive learning environment, while our learning resource center offers a wealth of educational materials to supplement classroom instruction.
"River Oaks Academy is dedicated to providing a transformative educational experience that goes beyond traditional learning," said Razzak Pardsi, CEO/Chairman at River Oaks Academy. "We invite parents, students, and the community to join us at our Open House event to witness firsthand the inspiring educational environment we have created. From our forest-based Early Years program to our esteemed O-level section and comprehensive facilities, we are committed to empowering students to reach their fullest potential."
River Oaks Academy extends a warm invitation to all interested parties to join the Open House event on Saturday, 8th July 2023, at our campus located at 43/F/15 Razi Road, Block 6, PECHS, Karachi. It will be an exceptional opportunity to meet our passionate faculty, explore our campus adorned with nature's beauty, and discover the remarkable educational experiences that await students at River Oaks Academy.
For further information and to RSVP for the Open House event, please contact the Admissions Office at 0345-8223695 or email riveroaksacademy1996@gmail.com. Visit our website at www.riveroaks.edu.pk  for additional details.
Stay tuned to Brandsynario for more news and updates.