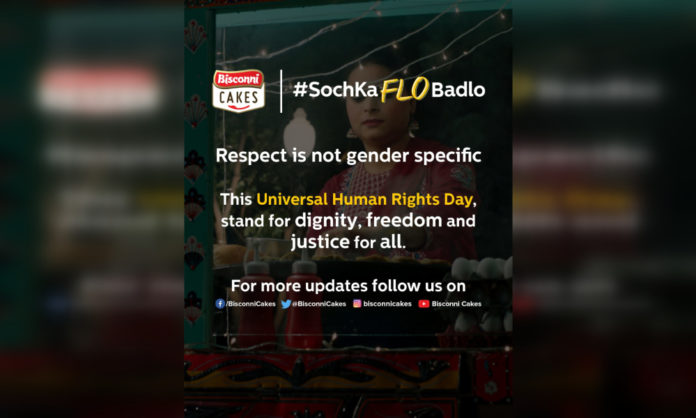 Bisconni Cakes have initiated the campaign #SochKaFLObadlo to play a role in changing the perspective of looking at the negative things around us through a positive lense.
The campaign has been initiated with the thought of breaking stereotypes and build an inclusive society.
Under this campaign, they have launched short videos with a strong message.
Their recent release in account of International Human Rights Day, emphasizes that respect is a right of every inalienable living being regardless of their cast, race or gender.
They are hitting harder on the thought of normalizing a respectable profession for the transgender community, who are as human as all of us.
The transgender community in Pakistan often faces discrimination and violence, and is not given basic human rights. 91 transgender women were killed in just one province of Pakistan since 2015. Despite the relatively progressive laws for transgender people, in reality, they are given little protection. Pakistan is in fact one of the only 12 countries worldwide that acknowledges transgender identity on their national ID cards.
Transgender people, and transgender women, in particular, face harassment, mistreatment, and exclusion from society, from the public health care system, education system, employment, and other institutions of government. Five years ago, Pakistan passed legislation guaranteeing basic rights for transgender citizens and outlawing discrimination in its 2018 Trans Protection Act.
In this campaign, Bisconni Cakes is encouraging people to show respect to Transgender like any other gender. It is we who need to understand that they are also human beings and they have a right to live their life as well with freedom and dignity.
We need to show support and motivate them to choose respectful professions. We need to end their struggle and open doors of opportunities for them. We need to break the stereotype. After all, blessings cannot only be earned in the form of charity but by helping someone out by taking a stand for them.