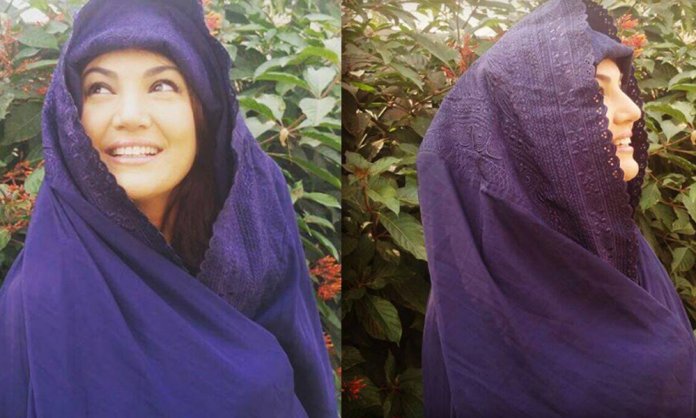 The rise of social media has put celebrities in a lot of trouble. Their lives are no more personal; with keyboard warriors scrutinizing them, watching their every move and deliberately making cruel, racist, homophobic and even sexist comments.
Just recently, Reham Khan got bullied over a harmless photo in which she was wearing a burka.
Thank you to @jalalsherazi for finally getting me the Burqa I had been asking for!! It's too cool 😉 #MyPakistan pic.twitter.com/af9OjvUIJ5

— Reham Khan (@RehamKhan1) November 5, 2017
It was probably the cutest thing on the internet and Khan looked uber happy to adorn it!
The most adorable & cutest thing I've seen today. Allah aap @RehamKhan1 ko buri nazar sey mehfooz rakhay. Ameen sum Ameen! pic.twitter.com/ELSj3qLK1I

— Ercah Pakistan (@IrcahPak1) November 5, 2017
The image instantly ignited a controversy over burqa!
For me it's a sign of slavery.

— Taskeen Khan (@taskeenkhan77) November 5, 2017
However, Reham patiently addressed the debate and replied to all like a pro!
It's our heritage Taskeen. Say hello to Thatcham. https://t.co/3wpWHUivIX

— Reham Khan (@RehamKhan1) November 5, 2017
Some social media keeras hurled the most abusive remarks to Reham on the picture!
Congrats for new boyfriend … I hope his refrigerator and cupboard are not empty 😎 https://t.co/herp3daQOk

— pti star (@PakistanFirst5) November 5, 2017
But Khan gave a fitting reply to their sick mentality and won the internet!
He is like my son & you've clearly been deprived of a Mother's guidance. https://t.co/C0wtbMDxBD

— Reham Khan (@RehamKhan1) November 5, 2017
We need to applaud the lady for her tolerance towards such disgusting views!
I genuinely feel sorry for misguided young men. It's sympathy. Committed to educating our youth. https://t.co/dxTYBZFbxM

— Reham Khan (@RehamKhan1) November 5, 2017
Well, Reham Khan is not a beginner to the idea of online trolls. Also, she never remains hushed on such things.
In the past too, she has been savage with her takedowns of regressive and backward schools of thought.
More power to the awesome woman!
Stay tuned to Brandsynario for more updates