Pakistan Tehreek-e-Insaf (PTI) Chairman, Imran Khan's third marriage with Bushra Maneka has grabbed headlines globally.
The politician has now found himself in the eye of a social media storm as the news of his wedding with the mother of 5 and his spiritual leader drew some serious ire.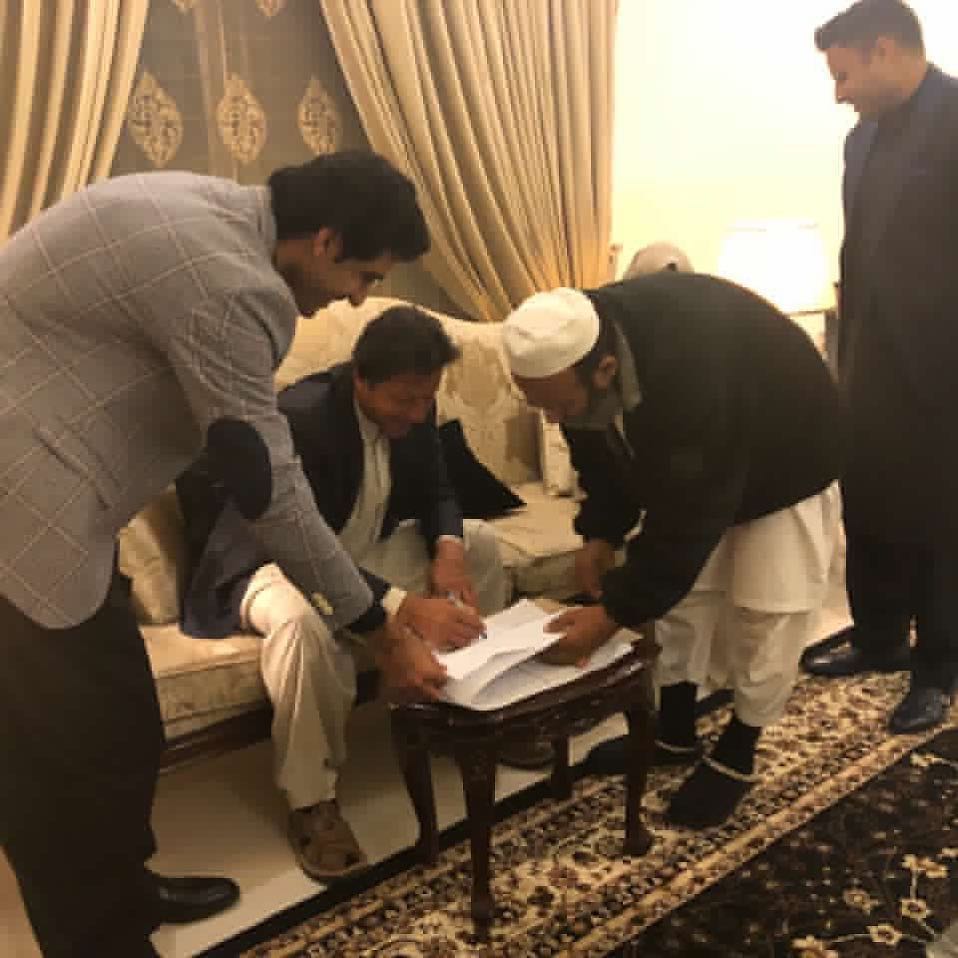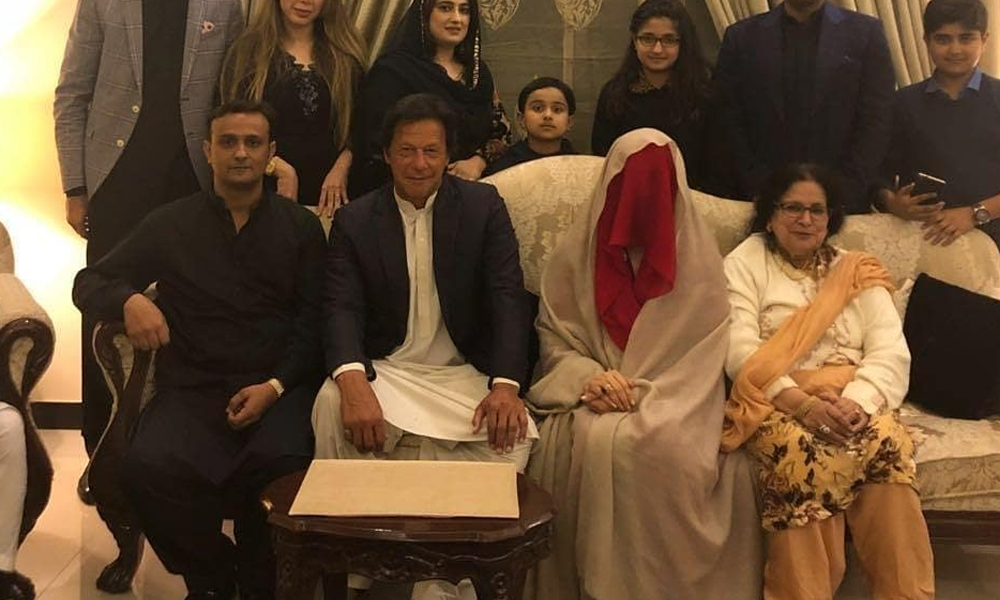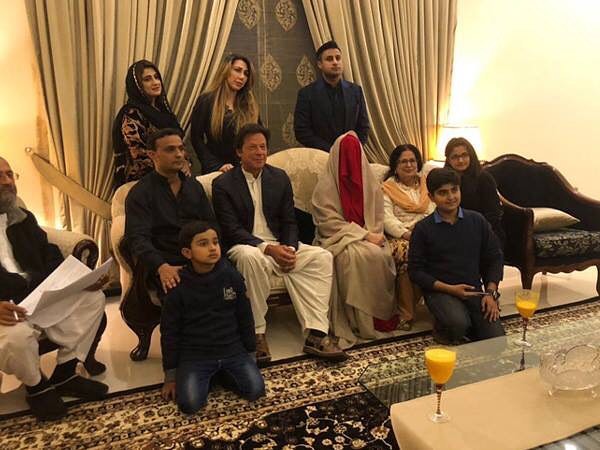 Of course, the cricketer's ex-wife, Reham Khan was bound to roll out her two cents in this regard and as predicted her statement has sparked a blazing controversy.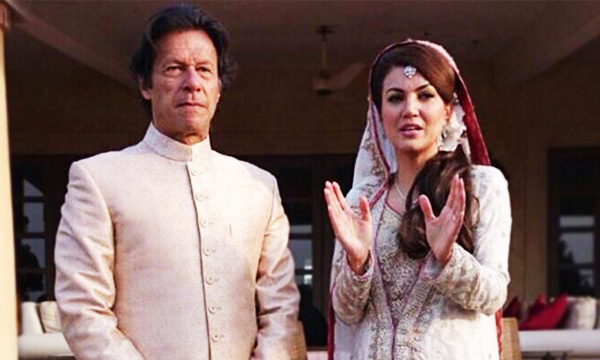 Finally breaking her silence, Reham told the publication:
"imran Khan was in contact with Bushra three years ago when I was his wife and he is not the truthful man"
Khan also accused Imran of lying about their marriage date:
  "i knew they married on 1 January, and he revealed it later, this is exactly what he did after marrying me and then announcing after two months"
She blamed the PTI chairman for deceiving Pakistan and the ideology of his party.
"Mr Khan is my ex but he is disrespecting Pakistan, indulging in affairs even when he was married with me. This move is the fragmentation of PTI."
Soon after the interview got published, Reham further verified her claims in this tweet!
No, these are the words of those who have been Pir & Mureed.
Both confirmed he was taking instructions for the last 3 years.
Ex-husband of Pir confirmed it too.
I was his wife at the time. #Fact https://t.co/hp4MKaGl9D

— Reham Khan (@RehamKhan1) February 20, 2018
The internet was quick to react to her controversial statements and posted a throwback to her earlier tweets about the politician.
Fans reminded her of the time she herself had vouched for Imran Khan's honesty and high morals.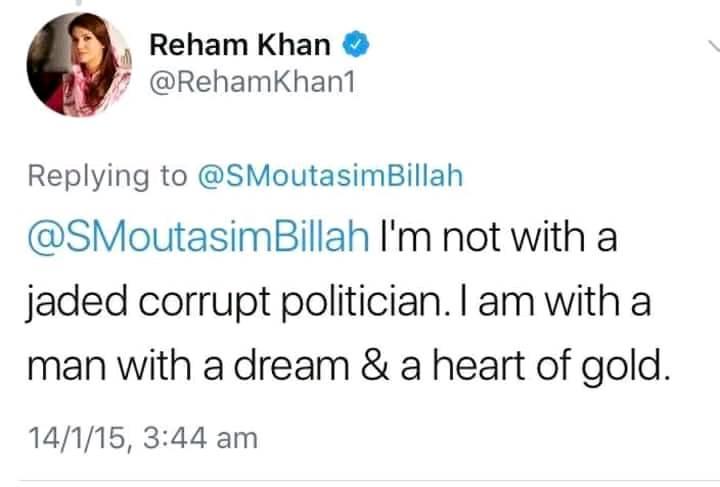 Dating back two years when she was married to IK, Reham had claimed the politician to be righteous and loyal to Pakistanis.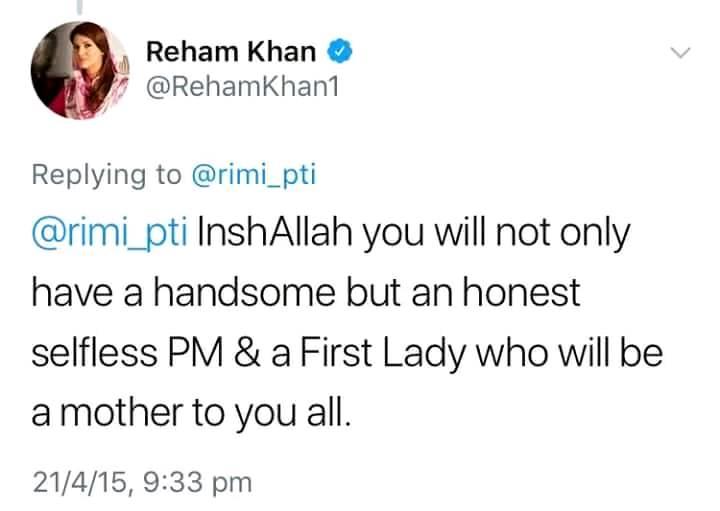 Keyboard warriors lashed out at the lady for slandering her ex-husband
Wicked witch of the West aka reham khan. Have some self respect lady. Why are you so obsessed with imran khan? https://t.co/xpTGRuSZN6

— Uzair Ali (@UzaerAli) February 21, 2018
PTI fans turned cold war interrogators and asked some valid questions from Reham! 
If Reham Khan was so much interested in politics why didn't she joined politics before she got married to @ImranKhanPTI . A woman doesn't become a politician just because of marrying a politician.Why she was so desperate to get limelight when she could have done it silently too. https://t.co/07YEtQpavU

— Tania Saleem (@TaniaPalijo) February 21, 2018
And they are seriously questioning the veracity of her claims!
I have a very serious question Reham , '' Why you kept this #Fact hidden until now ? https://t.co/gIZKLwIKCT

— Dr Ayesha (@DrAyeshaNaveed) February 21, 2018
Clearly, people are finding it hard to believe her accusations about Kaptaan!
you need to stop it, lady, nobody is buying your lies #facts @RehamKhan1

— Shumaaila Khaan (@shumaaila_khaan) February 21, 2018
So what is the real truth and how will Reham Khan respond next? Let's wait and watch!